———————————————————————
| DUBLIN EVENT GUIDE (for Free Events) No. 210
| 24 June 2011 Subscribers: 8753
———————————————————————
Hi all!
If all goes well, the "Dublin Event Guide (for Free Events)" will be featured in the RTE1 programme "Capital D" on Thurs 30 June (19:00)!! This is a big milestone for the Dublin Event Guide and I would like to thank Nodlag H., a wonderful Dublin Event Guide reader, for making it possible. The piece about the Dublin Event Guide will be relatively short, but the programme is only about 20 minutes long, so having more than 25% of the full programme dedicated to this newsletter is just brilliant!
[ad]
With the 4th anniversary in June, the official website launch, the constant and continual growth of the Dublin Event Guide Community and now with the TV feature in Capital D, you might think it can't get bigger and better. But watch this space! The goal of reaching 10,000 subscribers is definitely still there AND there is even more that I am working on. ;-)
It will be great to welcome many new readers and subscribers that found us through the TV programme and that join our Dublin Event Guide Community, but you know that your support is absolutely essential because the best way of letting people know is through word of mouth!
So, mention to your friends that this week the "Pride Parade & Fest", "Urban Living", "Pedal in the Park", the "Docklands Summer Festival" and many many more events will take place. And when they ask you how you know all these things, then please tell them about the "Dublin Event Guide (for Free Events)". With the new website www.dublineventguide.com it is now even easier to tell your friends and to give them a chance to check it out. They can subscribe on www.facebook.com/DublinEventGuide by clicking on "Join Email List" in the menu on the left or they can subscribe on the website www.dublineventguide.com. A mail to me at dublineventguide@gmail.com with subject SUBSCRIBE DEG works as well, so there is no escape. ;-)
This might help you to get the word out: www.perfectresults.info/event_guide_mini_flyers.pdf
www.perfectresults.info/event_guide_tear_off_poster.pdf
We now are more than 5100 people on the Dublin Event Guide – Facebook Page at www.facebook.com/DublinEventGuide as well. Come over and click LIKE too. Be part of this growing online facebook community and tell your friends. You will get last minute updates and event reminders through the Facebook Page! And I know (and you know it too!) that you don't want to miss out! :-)
——
This week's Feel Good Slot video clip is a bit more reflective. It remind you that every person comes into our lives for a reason….and often leaves our lives again when the job is done. Have you met people along the way that had a BIG influence on you, but after a while they disappeared again? Maybe you even had to remove them from your life? Don't stress over it! They came for a reason!
www.youtube.com/watch?v=bLltt5cPDOc
–Advertisement————————————


BOOK DEPOSITORY – BETTER THAN AMAZON
Books for lower prices than Amazon, sent to you with no postage cost, individually packed and within 48 hours. And with every book you buy – after clicking on the link below, you directly help the Dublin Event Guide (for Free Events)!
www.bookdepository.co.uk/?a_aid=dubevg
——————————————————–
This part is important to "keep the show on the road":
Last week, Ellen M and Gerard C. gave a much appreciated donation! Thanks a lot! To cover the cost for this Event Guide, I need about 4 donations every week and to improve the Event Guide I need another bit more. – MY part is to give 25 hours per week for no pay to make sure that YOU get the Dublin Event Guide every week. Could you help with just 25 cent per week or EUR 12 per year? That's a bargain! It is to cover the cost, but even if it was pay for me, imagine, it would be 1 cent per hour. Maybe I should ask for a LOT more??? ;-)
BTW: If you think that I make money from advertisement because you see a few ads, then please note that only if you click on the link in this newletter/e-zine when you, for example, order books from bookdepository, a (very) small amount (EUR 0.30 on average!) will be paid to me. If you don't BUY, I get nothing and if you don't click on the link here to start your purchase, I don't get anything either. And it is similar for most of the other ads.
This newsletter is a spare-time activity of mine for which I am not paid. It is not a commercial project and if you like it, you are invited to help with a donation. You can give as much as you want or can, but if you need some guidance, maybe consider just ONE Euro per month or – to make it more practical – a donation of 12 Euro per year (that is just EUR 0.25 per newsletter, you definitely have that much!). Where else can you get such a vast amount of useful information for just 25 cent? www.perfectresults.info/donation.htm
You can donate online by following this link to the PayPal&CreditCard donation page www.perfectresults.info/donation.htm If you want to transfer your donation directly to my account, just send a mail to dublineventguide@gmail.com and I will send you the details.
This Event Guide is sponsored by Esme E, Cliodhna D, Brian L, Padraig S, Kathie S, Orla niF, Jef B, Susanna N, Kate C, Nicola J, Claus Sch, Gordon S, Jeanne M, Fiona O'C, Marta M, Angela C, Isabelle F, Saundra S, Meisoon N, Ruth F, Valerie McN, Estelle O, Aoife M, Mairin M, Fionán O'L, Maeve L, Blaithin O'D, Ciara D, Mike G, Andrej G, Deirdre R, Vanessa O'L, Chris McK, Frank B, Dolores P, Cornelia K, Cathy A, Orla C, Kevin McC, Steph G, Wanda J, Siv M-J, Niamh niS, Gwen H, Jasmin T, Ian O, Eva C, Will P, Gráinne P, Caroline R, Elizabeth F, Suzanne B, Adele G, Jack C, Keeva H, Mairead MacM, Niamh G, Siobhan C, Jackie B, Penny O'D, Kathryn K, Aidan G, Ciara G, Deirdre L, Stephen D, Mary Q, Donald P, Aidan C, Julia Sch, Isak R-B, Sharon O'S, Brajan V, Nancy O'D, Zelie McG, Niamh K, Jennie R, Semin S, Gavin H, David G, Becky B, Emer niB, Niamh N, Ciaran H, Louis M, Gerard Ph, Monika E, Mark K, James O'H, Pere SC, Marsha D, Sarah McC, Patrick O'C, Sandra R, Christoph Sch, Deirdre O'B, Ellen C, Eimear O'F, Luna B, Leslie C, Elaine McH, Elva O'G, Deirdre G, Martin O'M, Maeve C, Ciara O'C, Sarah D, Patrick C, John O'R, Brian C, Brian R, Caroline C, Elaina O'N, Eilis C, Sandra R, Geraldine D, Nora W, Rachel M, Renata V, Carine S, Ruairi O'G, Donna D, Clare D, Tuna Y, Lisa S-O'G, Aga G, Anna B, Ian S, Joan W, Brian R, Bear N, Sebastian B, Tina M, Will McA, Siobhan H, Soeren G, Sheila McC, Regina Q, Marc F, Kieran O'C, Alan S, Orla K, Mike G, David N, Atri B, Damian L, Orna McE, Colm K, Grainne+Kieran C, Paul A, Cathy A, Damien McK, Sharon O'S, Malachy B, Eily O'C, Bridin McI, George K, Fergus O'C, Caitriona F, Marie N, Sarah M, Kalle R, Mervyn M, Thomas D, Anna-Lena F, Veronica F, Filippo G, Eimear McG, Marion K, Susan D, Patricia O'N, Darren B, Jekaterina O, Fergus G, Ailbhe H, Rainey D-G, Johan S, Gareth S, Evan P, Therese O'R, Rebecca M, Eva C, Ming-jia Y, Niamh S, Nikodem R, Padraig K, Stephanie W, Sarah Ann H, Ailis F, Fiona M, Nazim MG, Maureen P, Alda G, Pia O, Pauline R, Patrick Th, Brendan McC, Deirdre C, Patricia F, Aine G, Linda M, Hans W, Joan K, Ailish L, Tammy W, Darren B, Sarah M, Sophie P, Alessia R, Fiona O'R, Pia O, Paul H, Paul M, Stephanie C, Catherine G, Linda C, Anna O'D, Karen K, Eilis C, Robin S, Olwyn F, Rainey D-G, Gordon S, Irene H, Ellen B, Joe O'D, Geraldine D, Brian L, David L, Mary K, Alison P, Mary McK, James O'C, Joe C, Alan G, Svatka V, Zelie McG, Sean S, Claudia D, Christian K, Cathy G, Barbara Q-B, Anto K, Maria F, Tom D, Orlaith niB, Pauline R, Marta T, Anna O, Stephen Q, Kiera M, Claire McM, Corina R, Sylvie S-M, Julie H-C, Rebecca T, Arthur D, Laura B, Brenda McP, Fiona D, Keeva H, Nihar B, Brendan M, Donna M, Arthur D, Selina McC, Katrin H, Gil H, Padraig P, Melina Z, Cathy A, Thomond C, Raymond R, Nicola R and Noemi V, Ciaran W, Isabel F, Brendan M , Tom D, Luke, Monika K, Janine McK, Tom D, Sebastian B, Paul T, Anne G, Marc F, Camelia P, Nicola B, Ciaran H, Ryan M, Ellen M, Gerard C and www.flamencoindalo.com (A group that supports and promotes the art of Flamenco in Ireland.), www.olliart.com (An art curator and seller of art to businesses and private collectors.), www.thepaulkanegallery.com (A great Art Gallery, located at 6 Merrion Square, which supports contemporary Irish artists.) and www.a1computers.ie in Dun Laoghaire/Cabinteely (…who repair computers, printers and sort out Internet problems fast and who sell computers, laptops and lo w priced printer cartridges). The main sponsor is www.kravmagaireland.com, the self-defence training centre for everyone, which provides regular 12-week or 2-day self-defence training courses for beginners.
All events listed in this Event Guide are free of any admission charges (or at least appear to be free) unless otherwise stated. I try to find confirmation in all cases and do my best to double-check the information. However errors can happen and therefore no promise for correctness can be given.
______________________________
______Joerg's Picks______________
This section is intended to provide some help in picking and choosing from the huge number of events by sharing with you what I will/might or would do. This is not a "best of…" list and if an event is not listed here, it by no means implies that the event is not interesting. Instead my "picks" are just based on my personal preferences. All events mentioned here are described in detail further down.
–Advertisement————————————
BOTHERED AND BEWILDERED WITH LIFE?
Are you bothered, bewildered or just bogged down with life at the moment? – Mary Keating, MA, trained psychoanalytic psychotherapist, is available for appointments in Custom House Medical Centre, IFSC or at 20 Lower Baggot Street. Please phone 01-6776253 or 0868783086 or email mkeating@iol.ie for enquiries or to make an appointment. Her fees are appropriate to circumstances, so talk to her if you could do with some help and support. www.agalma.ie/therapists/mary-keating
——————————————————–
Again a week PACKED with events:
The Docklands Summer Festival on Sat+Sun, the People's Art exhibition at St. Stephen's Green, the exciting events at Filmbase for their anniversary, the Dublin Pride Parade, the Smurf Day in Dundrum and all this is JUST the Saturday. I would love to go to all these events, but I know I won't be able to. So I will decide on Saturday morning what I will do. Docklands Festival, People's Art exhibition, Pride Parade and Filmbase look possible! Catch me flying from one to the other! ;-)
On Sunday there is more of the Docklands Summer Festival, then there is Urban Living and Pedal in the Park. So for me it is probably Urban Living.
Luckily there are a few less events during the week, I couldn't keep up SUCH a busy schedule for a whole week! ;-) But have a look on Wednesday at the Nationl College of Ireland events about Cloud Computing. Then there is the EYP Summer Party on Thursday and obviously the highlight on Thursday (hopefully! ;-) ) the Capital D programme which features the Dublin Event Guide!
______________________________
______Competition______________
SWING DANCE SOCIAL NIGHT "ROUTE 66" – ANNIVERSARY CELEBRATION
Wed 06 July 20:00 – Turk's Head, Parliament Street, Dublin 2
Route 66 is a social night of Swing dancing that takes place every Wednesday in the Turk's Head. There's an easy drop-in lesson for beginners from 20:00 to 20:45, followed by social dancing until 23:00 (or sometimes later!) featuring all the best Swing music from the 1920s to today, including everything from Duke Ellington to Peggy Lee, from Glenn Miller to Ella Fitzgerald, from Frank Sinatra to even Michael Bublé! Admission is EUR 8 and you can buy your ticket at the door. See www.boogiebeatswing.com for more info.
On Wed 06 July, Route 66 will be celebrating its 7th anniversary. On top of that Jamie, the organiser/teacher/DJ, will be celebrating 10 years of teaching Swing in Dublin. If you'd like to join their Swingin' celebrations on that day, enter this week's competition! Jamie was super generous and made 7 (SEVEN!) pairs of tickets available for the big night on 06 July (one pair for each of their seven years ;-) ). Thanks! To enter the draw, send a mail to dublineventguide@gmail.com with ROUTE66 in the subject line and your name and mobile phone number in the body of the mail. Your mail has to be with me by 15:00 on 04 July.
–Advertisement————————————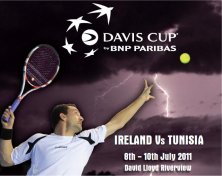 DAVIS CUP – IRELAND vs. TUNISIA
The Davis Cup

matches "Ireland vs. Tunisia" will take place in David Lloyd Riverview, Clonskeagh, Dublin 4 from 8-10 July 2011.
The matches are
* Fri 08 July: two singles matches
* Sat 09 July: one doubles match
* Sun 10 July: two singles matches
Tickets are on sale at
www.tennisireland.ie/davis_cup
WAXING LYRICAL – WAX MUSEUM
On Fridays at 19:30, the National Wax Museum Plus in association with Alive-O Productions present "Waxing Lyrical" – a rib-tickling alternative evening comedy tour of the wax museum. "What happens when you have two rival 'Tour Guides' but only one job? The heat is on, and in a wax museum, that could spell trouble! We join these hilarious 'guides' as they endeavour to take us, the audience, on a side-splitting alternative tour of the museum. We'll indulge in their unique take on history, as they relish in spinning colourful yarns about the waxen characters we encounter. In the show, we will get to experience two tours, followed by an exciting plot twist finale, brought to a head by our loveable rule breaking guides." (This is an over 16s event, due to the 'colourful' nature of the guides.) I know some of the team behind this comedy and expect that it is a lot of fun. The show will take place at 19:30 at the National Wax Museum Plus, Foster Place, Temple Bar, Dublin 2. The show lasts 1 hr and tickets are EUR 15 and are available from www.entertainment.ie/wax or on the door.
Alive-O now have made one pair of tickets available tonight's performance and the winner is Orlaith Ni Bhroin. Congrats!
If you want to experience this fun performance for Private Parties (work nights/stags or hens etc) for groups of 25 or more, this can be arranged for any night of the week. Just contact Camille Donegan (Alive-O Productions www.aliveoproductions.ie Ph: 087-6774714 Email: aliveoproductions@gmail.com)
______________________________
______Dublin News______________
STREET PERFORMANCE WORLD CHAMPIONSHIP
You might have heard or read it already, but in case you missed it: This year's winner of the Street Performance World Championship is …. The Space Cowboy!! For the third time this sword swallower, juggler, performer, dare devil, uni-cycle master and show man has won the World Championship and I detected a certain trend-setting effect: Stunts and acts that were performed by the Space Cowboy already years ago are now picked up by many other performers.
And if you were part of the "Where's Wally?" Record attempt or if you saw loads of "Wallys" in town and had no clue what that was about: The new record for the Guinness Book of Record stands at 3872 Wallys in one place! storyful.com/stories/1000004648-what-a-load-of-wallys-dublin-sets-a-world-record On the Dublin Event Guide Facebook Page, I shared a picture of the 3872 Wallys: www.facebook.com/DublinEventGuide
The Street Performance Wold Championship was a brilliant event again and I am already looking forward to next year's event. The event had lost its main sponsor last year and was this year sponsor-less, but it had no impact on the quality of the festival, so big praise for the organisers. One thing puzzled me a bit, though: I understood that the "Where's Wally?" record attempt was a means to generate revenue for the festival through the sale of the costumes (And I would have fully supported that.), but then I read in the festival brochure that the proceeds were going to a charity in Africa!? Certainly not a bad thing either, but I was a little confused.
SUMMER STARTED 24 DAYS AGO
Correcting that common misconception in Ireland that summer starts on 01 May, Met Eireann is trying to educate children with the proper and correct information, not the wrong information that Irish teachers taught for decades: Summer starts in Ireland on 01 June! Don't blame me! Check here: www.met.ie/education/pdfs_eng/YP%20Fun%20Facts%20Seasons.pdf
If you feel stressed about the fact that you were told lies, think of Santa and you will get over it. ;-) If you think Met Eireann is wrong, argue with them, not with me. (I have good reason to say that. ;-) ) Ohh, and I totally agree with you: I thought as well that summer was meant to come with sun and warm temperatures!
WATER SHORTAGE IN DUBLIN
The only good thing (if you can call it that) of the current weather is that the critical water supply situation will be helped by the rain. Dublin City Council said last Monday that ten continuous days of rain are needed to bring the water reservoirs up to the required level, because there were 115 days of water left compared to 156 days this time last year. Imagine this! 115 days without rain and Dublin would run out of water! With the rain over the last few days, the threat of water restrictions has receded in the short term, but the council said that did not mean things were back to normal. (www.rte.ie/news/2011/0619/water.html)
One big problem are leaks: A lot of work has been done in the last years to fix and replace old water pipes and this year the massive amount of EUR 320m will be spent (in whole Ireland) on water infrastructure to reduce leakage (www.rte.ie/news/2011/0616/water.html), but loss of water through leaks in the public water supply system remains a serious issue. In the mid 90s up to 42% of water in Dublin was lost through leaks. This has been reduced to below 28% in 2007 (www.rte.ie/news/2007/0927/water.html) and even further since then, but with 510 mill ion litres of water being consumed in Dublin, a 1% change is still a huge 5 mill ion litres!
–Advertisement————————————


BOOK DEPOSITORY – BETTER THAN AMAZON
Books for lower prices than Amazon, sent to you with no postage cost, individually packed and within 48 hours. And with every book you buy – after clicking on the link below, you directly help the Dublin Event Guide (for Free Events)!
www.bookdepository.co.uk/?a_aid=dubevg
——————————————————–
SUMMER OF HERITAGE 2010
28 June – 05 Sept: Dun Laoghaire area
The "Summer of Heritage" is back. Last year thousands of people visited various heritage sites across Dun Laoghaire -Rathdown and this year promises to be even better with an expanded programme featuring a range of events for adults and children alike, all of which are free to attend. The schedule includes tours and living history performances at the two magnificent stately homes, Cabinteely House and Marlay House. Tours of the stunning Celtic Oratory on Library Road and the Obelisk on Killiney Hill are back again and two new excursions have been added to the festival; The Dun Laoghaire Memorials Tour, which is a coastal visit to the numerous memorials around the town, including the Queen Victoria Fountain and the Crimean War Cannon. And a sightseeing tour along The Metals, a historic pathway that linked the quarry in Dalkey to the harbour in Dun Laoghaire is also new to the programme.
Nature lovers will enjoy the viewing of sea birds at Coliemore Harbour in Dalkey with members of Birdwatch Ireland, as well as the nature walks around Dillons Park in Dalkey, Three Rock Mountain and a bat walk along the River Dodder.
For more information check www.dlrevents.ie/pdfs/Leaflet.pdf or contact 01-2998032 or via summerofheritage@dlrcoco.ie
www.dlrevents.ie/heritage_10.html
———Opportunities—————–
In order to beat an economic downturn not governments can help, but individuals are needed that take the initiative and create new markets and new opportunities for themselves and for their customers and hopefully employees. The Dublin Event Guide (for Free Events) will help you if you have recently started a company and if you could do with spreading the word. Being mentioned here and being seen by the 8000+ readers of the Dublin Event Guide should help to kick start something big for you. In return I expect you to tell your clients and friends about the Event Guide and once you have made a nice bit of money, a donation would be very much appreciated. ;-) (This offer is for start-ups in relatively early stages only. Established companies can contact me regarding very affordable advertisement options in the Dublin Event Guide.) If you want to promote your start-up/young company here for free, let me know: dublineventguide@gmail.com.
BRASSERIE LE PONT – NEW FRENCH-STYLE RESTAURANT
Fiona Kelly told me about the new restaurant that she and her team opened only recently. It is a Fench-style Restaurant called "Brasserie Le Pont" and is located on the corner of Fitzwilliam Place and Leeson Street, very near to Leeson Street Bridge over the Grand Canal. Brasserie Le Pont is beautifully decorated and they are open first thing in the morning for coffee, throughout the day serving lunch and afternoon grazing plates and then for dinner from 17:30 (Tuesday to Saturday).
On Fridays from 18:30, a French jazz band play upbeat and smooth French jazz, suitable for chilling out over after work drinks. In addition to the restaurant there is a Wine Bar section, there is a heated terrace and private dining areas are available.
To celebrate the launch they are currently offering all customers a complimentary glass of prosecco when they come in for dinner.
The pictures on the website promise a beautiful, sophisticated dining experience and Fiona and her team would love to welcome you to Brasserie Le Pont!
www.brasserielepont.ie
______________________________
______Exhibitions_______________
Based on your feedback, I have decided to do the following with the Exhibition section in this newsletter from now on: I will provide you with a link to a near-comprehensive listing of exhibitions provided by www.visualartists.ie. For me to list all exhibitions would only be doubling their good work and would be an inefficient use of my resources. The link is visualartists.ie/category/listings/exhib-lein/
On top of that I will every now and then include here a small selection of exhibitions that either are not mentioned in the Visual Artist listing or are note-worthy to be mentioned separately.
COUPLE – EXHIBITION – THE COMPLEX GALLERY
23-30 June. Opening 23 June: 18:00-20:00 – The Complex Gallery, 18-21 Block C, Smithfield, Dublin 7. Dublin-based Italian artist and illustrator, Mario Sughi aka nerosunero, will exhibit his series of new works in the solo exhibition "Couple" at The Complex Gallery. www.thecomplex.ie
______________________________
______Friday___________________
LOVE DONEGAL
"LOVE: Donegal" and Arts and Crafts Showcase will kick off on Friday 10 June and will run until 24 June. During this time the Powerscourt Gallery will host an exhibition of high quality work from artists and craftspeople from all around Donegal. For the duration of the exhibition there will be various Donegal-themed events such as music, theatre, dance and workshops: Check out www.powerscourtgallery.com and www.facebook.com/Powerscourt1
INK SLINGER CREATIVE WRITING HOUR – IRISH WRITERS' CENTRE
Fri 24 June: 13:30 – Irish Writers' Centre, Parnell Square North, Dublin 1
The Ink Slingers Creative Writing Hour takes place every Friday at the Irish Writers' Centre. It is a free creative writing session that is organised and led by the Centre's voluntary arts administrators. The hour includes writing exercises and prompts to get ideas flowing. It is open to everyone and is suitable for all levels of experience. Sarah Griffin will be hosting the Ink Slingers throughout June.
www.writerscentre.ie/html/events/atthecentre.html
SUSTAINABLE LIVING – DISCUSSION & FILM – CULTIVATE
Fri 24 June: 14:00-19:00 – Cultivate, The Greenhouse, Suffolk Street, Dublin 2
As part of the 16th Sustainable Living Festival (16-26 June) on Friday an day about Sustainable Tourism and Local Food Enterprise will take place.
Food Tourism is an important element in the total tourism mix. Sustainable tourism is about making sure that tourists chose local food for boosting local economies and strengthening local communities. Establishing more local food enterprises as part of the tourism mix, while exploiting the country's 'green and hospitable' image, are key to Ireland's success as a "Food Island".
The afternoon programme starting at 14:00: Businesses and international tourism experts discuss the benefits of local food as part of the tourism mix.
The evening programme starting at 18:00: Film screening of foodie-film and a "99-Kms" (locally sourced) community 'potluck' style meal (where everyone is invited to bring a dish to share). Since the theme of the event is local food, everyone should try to bring a dish with all ingredients sourced from 99 km away or less. Be creative! www.cultivate.ie/convergence-16-festival/dublin-convergence
cultivate.ie/convergence/16/C16-Dublin-Programme.pdf
SJ MCARDLE – IN-STORE EVENT – TOWER RECORDS
Fri 24 June 18:00 – Tower Records, Wicklow Street, Dublin 2
SJ McArdle will perform in Tower Records.
www.towerrecords.ie/News/212
DUBLIN CITY OF SCIENCE TWEETUP
Fri 24 June: 18:00-20:00 – Science Gallery, Pearse Street, TCD, Dublin 2.
This is a call for all Irish science bloggers, podcasters, twitter addicts and on-line science warriors to come to the Science Gallery Cafe on Friday 24 June for the first #dub2012 tweet-up /meet-up. For more details and to book your place check
www.sciencegallery.com/events/2011/06/dublin-city-science-tweetup Admission is free and everybody is welcome.
PSYCHOSILLY – BOOK LAUNCH – MAD ART GALLERY
Fri 24 June: 18:00-21:00 – Mad Art Gallery, 56 Lower Gardiner Street, Dublin 1. Written with young readers in mind but equally appealing to adults, "Psychosilly" by Alan Murphy is a gloriously surreal journey through the imagination, lavishly illustrated with the authors colourfully idiosyncratic collages. In it doodles have a life of their own, homework is set by the Devil and dogs shape-shift in their dreams. Murphy's first book, "The Mona Lisa's on our Fridge" was reviewed in the Irish Times as one of the best children's poetry books of 2009. Illustrations from the new book form an exhibition as part of its launch by Robert Dunbar at the MadArt Gallery. 24 June, 6-9pm, wine reception. Kids welcome! www.avantcardpublications.com www.madartstudio.com/
OPERA IN THE OPEN – DUNDRUM TOWN CENTRE
Fri 24 June: 18:30 – Dundrum Town Centre, Dundrum
Excerpts of Giuseppe Verdi's "La Traviata" will be performed outdoors on Pembroke Square in Dundrum Town Centre. Both performances will be presented by the Dundrum Arts & Cultural Festival, and seating will be provided. Pembroke Square is adjacent to Harvey Nichols Menswear. www.dundrum.ie/events/opera-in-the-open-2/
BUDDHISM AND THE ECONOMIC CRISIS – CENTRAL HOTEL
Fri 24 June 19:00 – Central Hotel, Exchequer St., Dublin 2
"Buddhism and the Economic Crisis" is the title of a Public Meeting with Ken Jones, author of "The New Social Face of Buddhism". The same speaker will lead a workshop entitled "Transforming self – Transforming society" on Saturday 25 June, 11:00-13:00 at the Central Hotel. This workshop is designed to put into practice ideas presented by Jones at the seminar on Friday evening. Both events are free.
What has Buddhism got to offer in relation to the global crisis of capital? Ken Jones, a proponent of socially engaged Buddhism, offers a provocative analysis of the world economic crisis from the perspective of Buddhist teaching. His lecture on Friday night will be followed on Saturday morning by a short workshop aimed at showing how reflective practice can be integrated with social and political engagement.
These events will be of interest both to Buddhists who wish to put their insights into practice in a social or political context, and to activists who wish to bring clarity of vision to their activities through reflective "inner work".
www.engagedbuddhists.org.uk/?p=189
SLOVAK CULTURAL WEEK – CFCP
18-24 June: Centre for Creative Practices (CFCP), 15 Pembroke Street Lower, Dublin 2. The Slovak Cultural Week is organised by the Slovak Centre Ireland (www.slovakcentre.ie), a politically independent, community organisation established by a group of Slovak volunteers in 2006. The final event in this week of Slovak Culture is the Slovak Cultural Week Closing Party on Fri 24 June at 20:00. Admission is free. www.cfcp.ie/home/slovak/index.html
MUSIC MAKER SOCIAL 4 – SHEBEEN CHIC
Fri 24 June: 21:00 – Shebeen Chic, Sth Great George's Street, Dublin 2
Once a month the Music Maker (that's the music shop in Exchequer Street) social event is taking place and this month Indie/rock newcomers Common Wolf and instrumentalists Family Planning open up the show followed by Lights Over Phoenix , fronted by Miami born Dave Clark who's sound has been compared to Dave Matthews and Deftones. Headlining the night are Halcyon Daze, a three piece instumental act that you would have probably seen busking around Temple Bar. Admission is free. www.facebook.com/MusicMakerEire
LIVE MUSIC – STILLORGAN ORCHARD
The Stillorgan Orchard at The Hill in Stillorgan, Co. Dublin has a full programme of live music. The upcoming gigs are:
Fri 24 June Cornerstone
Sat 25 June Santoria
Sun 26 Jun The Hustlers
Sun 26 June – Minus Seven (12 piece Big Band Jazz) 18:00-20:30
Fri 01 July Donal Kirk Band
Sat 02 July Who's Eddie
Admission is free and the gigs start at 21:00. www.stillorganorchard.com/live_music.html
QUE PEZON – STONEY'S BAR, HILL STREET
Jose Dominguez tell me that himself and Pia Dunne will perform as the duet "Què Pezón!" every Friday in Stoney's Bar, Hill Street, off Parnell street. The Show starts at 21:30. www.myspace.com/quepezon and www.quepezon.com
SONGS OF PRAISE – MERCANTILE
From Fri 10 June the weekly Rock & Roll Karaoke event in Dublin has a new home. After a long time in The Village, Songs of Praise have now moved to the Mercantile in Dame Street. And the new day for the Karaoke night will be Fridays from 23:00. Admission is free.
REGULAR EVENTS – FRIDAY
* James Sheeran (Acoustic/Rock/Trad) is playing from 18:00 in Peadar Kearney's in 64 Dame Street, Dublin 2. And The Eastern Harps (Trad) are playing there from 20:00. Admission is free.
*Graeme McKenna is playing an acoustic gig (Trad to contemporary) every Friday in the Maldron Hotel, Kingswood near CityWest from 19:00.
* Need to wind down after a tiring week? Free Sahaja Yoga Meditation (not physical yoga, but "yoga meditation"!) classes every Friday at 19:30 at 4/5 Eustace Street, Temple Bar (next to IFI, ring bell no. 3) and every Monday from 19:00 in Blakestown Community Resource Center, Blakestown Way, Dublin 15 (next to Lidl). These are drop in classes, newcomers are welcome. For more information check www.coolspirit.info or www.sahajayoga.ie.
* The Covers play Rock Covers from 22:00 in The Mezz, 24/25 Eustace Street, Temple Bar, D2. Later: DJ Carlos Irie. Admission is free.
* Songs of Praise, a Rock Karaoke is taking place every Friday from 23:00 in the Mercantile, Dame Street, Dublin 2. www.getpraise.com
______________________________
______Saturday_________________
DOCKLANDS SUMMER FESTIVAL
Sat+Sun 25-26 June: 10:00-18:00 – Grand Canal Square, Pearse Street, Dublin 2
The Dublin Dockland's Summer Festival, organised by Waterways Ireland and the Docklands Business Forum, will take place this weekend. An array of activities, on both the land and water, are planned over the course of the weekend, culminating in the Waterways Ireland Inter-County Sailing Championship on Sunday, where sailing teams from all across Ireland will battle it out in a challenging and testing race around the docks.
Between the racing, there will be an assortment of water based activities for everybody to partake in and enjoy including kayaking, paddle boarding, barge rides, viking splash tours, dragon boat displays, as well as the opportunity for the young and old to try their hand at a range of free and interesting water sports. If you prefer to stay dry you can sponsor a duck in the Barrettstown Rubber Duck Race (on Saturday) or play water golf off the jettie.
Land activities will also on offer: With street performers, music, face painting and balloon modeling there to entertain. A gourmet food market will have a huge range of quality fresh and exciting food from across the globe, with everything from Greek and Japanese cuisine to a more standard European fare.
Check out the individual events here www.docklandssummerfestival.com/map-programme/ Most events take place in and around the Grand Canal Square and the Grand Canal Basin.
A Duck Race – at the time with a Guinness Record Attempt – was tried before and failed disastrously because the organisers didn't get the mechanics of high tide and low tide right. The released the ducks at such a bad time, that they didn't move at all. Hopefully the experts from Waterways Ireland do a better job. ;-) www.docklandssummerfestival.com/wp-content/uploads/2011/06/DockFest-FlierA42.pdf
BADGER OLYMPICS – TOLKA VALLEY PARK
Sat 25 June: 10:00-12:00 + 14:00-16:00 – Tolka Valley Park (meet at the entrance at the junction of the Broombridge and Ballyboggan Road. Tolka Valley Park runs through Dublin's western suburbs of Blanchardstown, Mulhuddart and Corduff. The park follows the course of the Tolka River to the Dublin City boundary at Finglas.
"Get outside and go for gold this summer with the Irish Wildlife Trust's 'Badger Club'. At this free family event we will explore the Tolka Valley Park with our own 'wild' take on the Olympic games. From bird beak relays, to otter bobbing, discover your animal champion." There are 2 sessions (10:00-12:00 and 14:00-16:00). Admission is free, but booking is essential. Please say which time you are booking for and email education@iwt.ie or call Senan at 01-8602839. www.facebook.com/event.php?eid=129134383835174
PEOPLE'S ART 2011 – ST. STEPHEN'S GREEN
Fri-Sun 24-26 June: 11:00 – around St. Stephen's Green, Dublin 2
Four times this year the "People's Art 2011" exhibition will take place. It is an art exhibition on the rails/fence of St. Stephen's Green. If you want to exhibit at one of the events in the future, check the website for cost and conditions. Visiting the People's Art Exhibition is free. Specific start and end times are not defined, but exhibition space has to be occupied by 11:00, so 11:00 is the latest start time. The evnt runs from Friday until Sunday, but Sat+Sun will most likely be the main days.
People's Art Dublin is a voluntary, part time, non profit making group, brought together by Dublin City Council to promote the visual arts to the public of Dublin. www.peoplesart.ie/
FILMBASE 25 – BIRTHDAY EVENTS
Fri+Sat: 24+25 June: Filmbase, Curved Street, Temple Bar, Dublin 2
This year Filmbase in Temple Bar celebrates 25 years supporting filmmakers working in Ireland and to celebrate this they are hosting a range of events on 24+25 June. Special events include a 'Road to the Oscars' event with filmmakers Juanita Wilson (The Door), Steph Green (New Boy) and Nicky Phelan (Granny O'Grimm's Sleeping Beauty) on Friday 24th June. Young Irish Oscar-nominated actress Saoirse Ronan will come to Filmbase on Saturday for a special public interview. And there will be short film screenings, talks, demos and more. All events are free, but some are ticketed, so make sure you check the details for each event on
The Friday event is
+ Road to the Oscars Event – Fri 24 June 18:30-21:00. Booking required.
On Saturday this takes place:
+ Stunt Action Class for Film & TV from 11:00
+ Meet the Filmmakers from 11:00-16:00
+ Irish Shorts from 11:00-16:00
+ DSLR Tips & Tricks from 12:00
+ Meet the Training Department from 12:00
+ Film Ireland Reviewing Workshop from 12:00
+ Animation Demo with Adobe Flash from 13:30
+ Public Interview with Saoirse Ronan from 15:00
A great programme and ALL for free! (But make sure to book were required!) Check out www.filmbase.ie/filmbase25/ for details.
DUNDRUM FESTIVAL
The Dundrum Festival will take place from Tues 21- Sun 26 June with the main events over the weekend of the 26 June. On Sat+Sun (14:00-17:00) the Main Street in Dundrum will be the venue for Street entertainment and lots more fun, especially for children. And there will be a variety of other events taking place also. Have a look here for details: dundrumfestival.ie/events.htm
POND DIPPING – CHILDREN'S EVENT – BOTANIC GARDEN
Sat 25th June: 11:00 – National Botanic Gardens, Botanic Road, Glasnevin, Dublin 9
The Children's Event "Pond Dipping" is a fun event exploring the weird and wonderful diversity of insects and minibeasts living in the National Botanic Gardens. Everything from tiny bugs to butterflies. This workshop is suitable for 8-10 year olds.
Admission is free, but advance booking is necessary on www.botanicgardens.ie/news/events.htm
YOGA IN THE PARK – PHOENIX PARK
Throughout the summer last year Fiona Moloney was running weekly Yoga classes to raise money for The Dublin Simon Community. It was a successful effort with EUR 1,600 being raised for homeless people in Dublin. Yoga in the Park is now back and will be run by Fiona and Tine Schnell.
Each Saturday at 11:00-12:00 until September, Fiona and Tine will be taking turns to lead the classes. Meeting point is the Bandstand near the Zoo and near the Tea Rooms. Classes will be suitable for all levels and are donation based. That means you can give what you can afford, but please be fair. Fiona and Tine are doing a great job for the Simon Community and they need your support.
Wear some loose clothes, preferably layers to be prepared for all type of weather and bring a mat (or a big beach towel). For contact details, directions and to find out who is teaching when, go to www.twopalmsyoga.com ..and when you go to the Yoga, say HI to Fiona and Tine from me, please! ;-)
HA'PENNY FLEA MARKET
The extremely active and buzzing Grand Social (formerly Pravda) near Ha'Penny Bridge is running a Flea Market in the pub every Sat from 12:00-17:00. The next Flea Market is on Sat 11 June. Vintage, Retro, Clothes, Music, Books, Furniture, Crafts, Bric-a-Brac, Food, Stalls, Live Performances, Vinyl Dj's. And if you want to sell something yourself, just contact hapennyflea@thegrandsocial.ie
thegrandsocial.ie/event/hapenny-flea
NATIONAL MUSEUM EVENTS
+ Gallery Talk "Gardening Monsters" will take place on Sat 25 June from 12:00-12:30 in Merrion Street (Natural History). It is suitable for adults. "June is a time for gardening and finding mysterious bugs. Join this gallery talk to find out about some of the stranger beasts in your garden." No booking required. www.museum.ie/en/list/calendar-of-events.aspx?eventID=2345
DAY TIME SUN WATCH – ASTRONOMY IRELAND
Sat 18 June: 13:00 – Astronomy Ireland, Unit 75, Butterly Business Park, Kilmore Road. Artane, Dublin 5. Astronomy Ireland will host a Daytime Sun Watch at their headquarters in Artane every Saturday over the summer, where you will get to see the Sun in a way that very few people have ever seen before. Our closest star will show incredible detail using special filters that will reveal intricate detail on its surface. Activity on the sun has been hotting up as we approach a solar maximum and massive sunspots are visible most days. This is a free event and is suitable for all the family and all attendees will receive a European Space Agency DVD. www.astronomy.ie
DUBLIN PRIDE PARADE
Sat 25 June: 14:00 – Parnell Square to Civic Offices.
The week-long Dublin Pride Festival comes to an end this weekend, but not before the biggest event takes place this Saturday. The Dublin Pride Parade starts at 14:00 at the Garden of Remembrance and then travels down O'Connell St, over O'Connell Bridge, onto D'Olier St, College St, Dame St, Lord Edward St, Christchurch and Winetavern St. It will finish up at the Amphitheatre at the Civic Offices on Wood Quay, where a Post Parade Party will start at 15:30. 20,000 people are expected to attend the Pride Parade! The Amphitheatre area has a limited capacity, so make sure you get there early. If you miss out on getting into the area itself, you can enjoy the show from the hill area outside Christchurch Cathedral. Among others, the following acts will perform Crystal Swing, Niamh Kavanagh, DJ Zack Hadley, Von Trash. In addition the winner of Pride Factor 2011, a pole dancing act, will perform and drag performers, including Lady Veda, Shirley Temple Bar and Victoria Secret will attend.
After the Post Parade Party there will be more parties in a variety of venues in the City Centre. Some are free until a certain time and you can find the details in the programme here www.dublinpride.ie/events/programme A few more events will take place on Sunday and they are all included in the Programme on the Dublin Pride website as well.
GLOBAL SMURFS DAY IRELAND – DUNDRUM TOWN CENTRE
Sat 25 June: 14:00-17:30 – Dundrum Town Centre's Pembroke District
To celebrate the release of The Smurfs in 3D, Ireland will join 12 countries around the world in an attempt to break the Guinness World Record for the most people dressed as Smurfs on Saturday 25 June. And so the biggest Smurf Party every will take place on that day and the organisers hope that the biggest of them all will be in Dundrum. Registration for Smurf participants is closed now, but from 14:00 on Sat events will take place and blue Smurfs will run around Dundrum. The record attempt will take place from 17:00-17:30. So, if you want to see lots of Smurfs, go to Dundrum. The Jack & Jill Children's Foundation is the nominated charity for the record attempt in Ireland. www.smurfsdayireland.ie
THE METALS FAMILY CYCLE
Sat 25 June: 14:00 – Meet at the People's Park, Dun Laoghaire
The National Bike Week is taking place from 19-25 June and as part of this a number of cycling and awareness raising events are being organised including a family leisurely cycle along the Metals in Dún Laoghaire on 25 June. All are welcome and encouraged to attend, but Registration is essential. This free event is organised by Dún Laoghaire-Rathdown Sports Partnership and Dún Laoghaire-Rathdown County Council, with a goodie bag, high viz vest and refreshments at the finish line for everyone. The route is 5km in length, starting in People's Park, following "The Metals" to Dalkey, and returning along the Coast Road to finish again in People's Park. The route is suitable for all levels of cyclist. Connecting Dún Laoghaire to Dalkey, the Metals route takes in some of the most scenic and historical streetscapes in the County and provides an attractive link for cyclists to DART stations, schools, recreational facilities and shopping.
To register your interest for this event and get a full list of the activities taking place in the County during National Bike Week please contact Dún Laoghaire-Rathdown County Council at 01-2047026 or fgill@dlrcoco.ie. www.dlrevents.ie/metalscycle.html
www.dlrevents.ie/pdfs/001855%20DLR%20Bike%20Week%20DL%20Leaflet%206pp%20web%5B1%5D.pdf
HENRIETTA GAME – IN-STORE EVENT – TOWER RECORDS
Sat 25 June 14:00 – Tower Records, Wicklow Street, Dublin 2
Henrietta Game will perform in Tower Records.
www.towerrecords.ie/News/212
POPICAL ISLAND #2 ALL-DAY LAUNCH GIG – WHELAN'S
Sat 25 June: 14:30 – Whelan's, 25 Wexford Street, Dublin 2
This launch party for Popical Island #2, a compilation featuring 18 of Ireland's best indie pop bands, will feature Yeh Deadlies, Jonny Fun and the …Hesitations, Groom, The Walpurgis Family, Land Lovers, Tieranniesaur, We Are Losers, Squarehead, Sea Pinks, Pantone 247, Rhino Magic, Hello Moon, Goodly Thousands …plus Popical DJs till late. Admission is free. popicalisland.tumblr.com/
www.whelanslive.com/index.php/archives/2541
RHYTHM ROCKER – THE GLOBE
"Rhythm Rocker at The Globe" is a weekly event in The Globe in Sth Great Georges Street, Dublin 2. It is a Rockabilly, R'n'R, Roots night with live bands Pavement Kings and The Wayward Sinner Boys (in alternating weeks, it seems) from 20:00 and with DJs from 23:00-01:30. Admission is free. www.globe.ie
REGULAR SATURDAY EVENTS
* Don't forget that the Temple Bar Markets (Food Market on Meeting House Square, Book Market on Temple Bar Square and the Designer Mart near Cow's Lane) are taking place every Saturday from 10:00-16:30. The Food Market is – until June – divided in parts and distributed in different locations in Temple Bar.
* The SuperNatural Food Market is taking place every Saturday from 09:30-15:30 in St. Andrews Resource Centre in Pearse Street, Dublin 2. www.supernatural.ie
* Dublin Food Co-op is open every Saturday (09:30-16:30) at Newmarket, Dublin 8 for organic wholefoods and sustainable household products, plus over a dozen producer stalls offering organic fruit and veg., baked goods, dairy produce, wines, hot and cold food, etc. Additional Co-op opening Thursdays 12:00-20:00. www.dublinfood.coop
* The weekly Honest2goodness food market with fresh meat, vegetables, fish, baked goods, wines in Glasnevin is open from 09:30-16:00. It is behind Lidl in the Industrial Estate just after the Glasnevin Cemetary coming from the City Centre. (www.honest2goodness.ie)
* At the Blackrock Market in the centre of Blackrock, you find 50 stalls selling collectibles, antiques, handmade goods, books, food + there's free popcorn and ballons&facepainting for the kids. www.blackrockmarket.com/ Opening: Sat+Bank Holidays: 11:00-17:30, Sun: 12:00-17:30
* Meditation through Breathing: Every Saturday from 11:00-12:00 this event will take place in Iveagh Gardens (at the back, near fountains). The event is free of charge, but since it is weather dependent, you are asked to call beforehand to ensure the class is on (087 2045168). Suitable for all. No previous experience required. Wear comfortable warm clothes and bring a yoga mat/light blanket.
* Blackhorse Flea Market + Car Boot Sale. Every Saturday from 10:00-18:00 the Blackhorse Market is taking place. You can reach it from Tyrconnell Road and from Kylemore Road and it is within 3 min from Black Horse stop on red Luas line. theblackhorsemarket.com
* Trad Session – Schoolhouse Pub in 2-8 Northumberland Road, Ballsbridge. Every Saturday from 20:30 singers, guitar, fiddle, banjo, accordion, whistle, pipers, bodhran etc are all welcome to join in. www.schoolhousehotel.com/
* The Black Sheep play Rock Covers from 22:00 in The Mezz 24/25 Eustace Street, Temple Bar, D2. Later Dj Glenn Brown (Dublin Calling). Admission is free.
* Havana Tapas Bar is inviting to a Salsa Night with afro-latin percussion every Sat night 22:30-02:00. Bachata, salsa, merengue, reggeaton with latin DJs. Food is available until 00:30 and usually there is plenty of room to get dancing and you are invited to add your own percussion. www.facebook.com/pages/Havana-Tapas-Bar/10503361821
* Salsa/Latin Party in the Merchant Arch Bar, opposite the Ha'Penny Bridge from 23:00-02:30. Admission free.
______________________________
______Sunday __________________
DOCKLANDS SUMMER FESTIVAL
(see Saturday for details)
PEOPLE'S ART 2011 – ST. STEPHEN'S GREEN
(see Saturday for details)
DUNDRUM FESTIVAL
(see Saturday for details)
POINT VILLAGE CAR BOOT SALE
Sun 26 June: 09:00-13:00 – Point Village (next to the Big Wheel) at the Point Theatre. The Point Village Car Boot Sale and Sunday Market is taking place next to the Point Theatre (The O2) every Sunday morning from 29 May – 29 Sept. Up to 200 cars and 20 pop-up style marquees will offer their wares. www.irishcarboot.ie
CHILDREN'S ART WORKSHOP – PHOENIX PARK
Sun 10:30-12:30 – Phoenix Park Visitor Centre.
The weekly Children's Art Cart Workshops is taking place every Sun. Up to 15 children (5yrs+) can participate but they must be supervised by an adult. The next workshop is on 26 June. The schedule at www.phoenixpark.ie/newsevents/title,12181,en.html doesn't tell us what the topic is, but I am told that the workshop nevertheless continues. To confirm that it takes place and to find out this week's title ring 01-6770095.
DUBLIN FLEA MARKET – DUBLIN FOOD CO-OP
The next Dublin Flea Market is taking place in the Food Co-op, 12 Newmarket, just off Cork Street, Dublin 8 on Sun 26 June from 11:00-17:00. The flea market takes place every last Sunday of the month. For more information or if you want to sell your own stuff, check out www.dublinflea.ie. The Co-op Hall is wheelchair accessible and lots of free parking spaces are right outside the door. The Flea Market extends to the outdoors area on Newmarket and features now 20 additional outdoor stands.
URBAN LIVING – WOLFE TONE SQUARE
Sun 26 June: 12:00-18:00 – Wolfe Tone Square, Jervis Street, Dublin 1
Dublin City Council are starting their "Summer in Dublin" events this weekend. The first one will be Urban Living, which took place at Smithfield Plaza in previous years and has this year moved to Wolfe Tone Square (Dublin City calls it Wolfe Tone Park, but the lack of greenery disqualifies this square from the "Park" category!)
This is Dublin City's description of the event:
"Urban Living is an interactive event which animates an urban space in the City Centre through performance and colour. This vibrant event maximises the use of Wolfe Tone Park, a key Dublin City public space in the heart of the Capital by animating it and transforming the space into a creative hub where visitors can relax, learn and be entertained by an engaging programme of music, circus and gardening workshops. Ireland's top Circus performers Johnny D'Juggler and The Other Brothers, walk in Circus workshops, stilt walkers, face painting and the 24 piece Barbershop Troupe "Blue Heaven" will engage and entertain audiences young and old.
The innovative, award winning landscape gardener Peter Donegan will preside over gardening demonstrations, sharing his thoughts and ideas on how to get the best out of our urban spaces including using quirky recycled household objects!
Naturally Wild's, Dale Treadwell engages with young people as he looks at the different wildlife that enter our urban habitats with his highly entertaining show "Life in your Own Back Garden". Market stalls, trading in hot and cold foods, delicacies and confectionary will also be in Wolfe Tone Park."
www.facebook.com/event.php?eid=153440944725027 and for information on
Peter Donegan, is indeed a cool landscape gardener with lots of good ideas and he is a really nice guy as well, so in case the rest doesn't do it for you, have a chat with him! ;-) blog.doneganlandscaping.com/2011/06/21/urban-living-dublin-city/
PEDAL IN THE PARK – PHOENIX PARK
Sun 26 June: 12:00-18:00 – Papal Cross, Phoenix Park
The closing event for the Bike Week 2011 will be the day long Pedal in the Park event. Pedal in the Park is a fun, family friendly celebration of all things bicycle. Come along for the Bike Village where everything you ever dreamed of about cycling will be on display, Live Music, BMX Stunt Displays, Bike Rodeo, Bike Tours of the Phoenix Park, the Seven Man Fun Bike, The Gold Sprints Static Cycle Races, The Kid Zone, Face Painting, Balloon Modelling and much more.
At 15:00 a Parade of Colours will pedal off for a 6km non-competitive bike cruise around the Park in a completely car free environment. All 32 counties will be represented. All are welcome to participate and wear their county colours.
bikeweek.ie/pedal-in-the-park
SUNDAY AT NOON CONCERT – HUGH LANE GALLERY
Sun 26 June: 12:00-13:00 – Hugh Lane Gallery, Parnell St North, Dublin 1
The weekly "Sunday at Noon" concerts are free and no booking is required. This week Concorde with Garth Knox (viola) will perform "The Viola: A Wold Beast Unleashed". Concorde unveil five new compositions by Irish composers which have been inspired by violist Garth Knox.Written over the past nine months through a series of workshops with all composers and performers, the new works feature guest artist, violist Garth Knox. www.hughlane.ie/past-sunday-concerts/398-concorde-with-garth-knox-viola
FRAN O'MEARA – LECTURE – HUGH LANE GALLERY
Sun 26 June: 13:30 – Hugh Lane Gallery, Parnell Square North, Dublin 1
The Public Lecture "Frank O'Meara's Muse" with lecturer Mary Stratton Ryan will take place. Admission is free but places are limited. www.hughlane.ie/lectures/lectures-past/361-public-lecture-frank-omearas-muse
TERENURE SPORTS CLUB FAMILY FUN DAY
Sun 26 June: 13:00-17:00 – Terenure Sports Club, 54 Terenure Road North, Terenure Dublin 6W. The Terenure Sports Club will be hosting a family fun day on Sunday with loads for all the family including BBQ, Inflatables, carnival stalls and much more. www.dublin.ie/calendar_details.aspx?eventid=3045
DUBLIN SKETCHERS – SUNDAY MEET-UP
The Dublin Sketchers Group is an informal group of typically hobby artists who go somewhere different in Dublin every Sunday (e.g. Collins Barracks, Farmleigh, Botanic Gardens, Dublin Castle), sketch for an hour or so, and then meet up for coffee afterwards and discuss their sketches. www.dublinsketchers.blogspot.com/ Find out on their website where they will meet and join them if you do some sketching/drawing yourself. Meeting time is usually around 14:00.
NATIONAL MUSEUM EVENTS
+ The Family Tour "Do you Twitter?" will take place on Sun 26 June from 15:00-16:00 in Merrion Street (Natural History). "Animals make various noises for different reasons. Learn more about animal sounds and calls on this tour, including the deer that barks!" No booking required. www.museum.ie/en/list/calendar-of-events.aspx?eventID=2347
+ The My Museum event "Sun & Moon-Printmaking Workshop" will take place on Sun 26 June from 15:00-16:15 in Kildare Street (Archaeology) and is suitable for Ages 8+. "Spot the moon and solar shapes in our gold collection and capture them in your very own print with expert printmaker Niamh Flanagan. No booking required. Places limited to 10, first come basis. www.museum.ie/en/list/calendar-of-events.aspx?eventID=2349
SUNDAY SKETCHING – HUGH LANE GALLERY
Sun 26 June: 15:00-16:00 – Hugh Lane Gallery, Parnell Square North, Dublin 1
The next Sunday Sketching for 7+ Year olds has the title "Harry Clarke Gothic Figures". No booking necessary. Admission is free and early arrival is recommended. www.hughlane.ie/childrens-workshops/forthcoming
NATIONAL GALLERY – FAMILY WORKSHOP
Sun 26 June: 15:00-16:00 – National Gallery, Merrion Square West, Dublin 2
The free "Picture This! Workshop" with the topic "Impressionism" with Maree Rigney will take place. Admission is free and no booking required. nationalgallery.ie/whatson
NATIONAL GALLERY – LECTURE
Sun 26 June: 15:00-15:45 – National Gallery, Merrion Square West, Dublin 2.
The free lecture "Curating Contemporary Irish Crafts" with Ann Mulrooney, Exhibitions Manager and Curator, The Crafts Council of Ireland will take place. Free public lecture. www.nationalgallery.ie/whatson
ERIC JAM SESSION – EXCHANGE DUBLIN
Sun 26 June: 16:00-20:00: Exchange Dublin, Exchange Street Upper, Dublin 2
The Electronic Rock Ireland Collective Presents the ERIC Jam Session, a free music session open to everyone. Whether you're in a band or just want to jam. Feel free to pop by with a guitar, bass, sampler, keyboard, laptop or whatever. The Electronic Rock Ireland Collective is a group musicians, music lovers and artists with one thing in common, a passion for combining the broad genre that is Rock music with the equally broad genre that is Electronic music. ericollective.tumblr.com/ www.facebook.com/event.php?eid=186350111417166
SAUCY SUNDAYS – THE GRAND SOCIAL
Saucy Sundays is a live music session happening in the The Grand Social (former Pravda) near Ha'Penny Bridge. The next event will be on 26 June from 16:30-22:30. The line-up will be: Myles Manley, Cal Folger Daym Last Second Magic, Peter Doran, YFO, Agnes Latscha, Elliots Way. For all details check www.facebook.com/profile.php?id=100001494016795&v=wall to find out all details.
REGULAR SUNDAY EVENTS
* The Temple Bar Book Market is taking place every Sat+Sun on Temple Bar Square from 11:00-18:00.
* Jamestown Flea Market + Car Boot Sale. Every Sunday from 10:00-17:00 the Jamestown Market is taking place. You can reach it from Tyrconnell Road and from Kylemore Road and it is within 3 min from Black Horse stop on red Luas line. www.jamestownmarket.com
* The Odeon Bar & Grill (Old Harcourt Street Station, Dublin 2) are inviting all families on Sat+Sun from 12:00-18:00 to a "Matinee Brunch Club". Good Food, Kids movies (14:00) and kids under 3 eat for free. www.odeon.ie/matinee.html
* Afternoon Jazz in Café en Seine. The Sweet & Lowdown Jazz Trio play every Sunday from 14:00-16:00 in Café en Seine in Dawson Street. Admission is free. www.stellabass.com and a video is here gush.ie/clients/sweetlow/video/
* Sunday Roast is a weekly event in the Mercantile in 28 Dame Street from 21:00-01:00. Provided are free live music, games & roast potatoes. www.facebook.com/pages/Dublin-Ireland/Sunday-Roast/57594006610
* Graeme McKenna plays an acoustic gig (from trad to contemporary) every Sun at 18:00 in Number6 on Smithfield Square. www.number6.ie/
* "Loose Change" play in Gibneys Pub, New St., Malahide every Sunday from 18:00-20:00.
* Comedy Crunch – Shebeen Chic. The Comedy Crunch is a free Stand Up comedy downstairs in Shebeen Chic, Sth Great Georges Street from 21:00 every week. www.facebook.com/pages/The-Comedy-Crunch/83791357330
* From 21:00 in The Bleeding Horse on Camden Street "The Apollo Sessions" is a free show featuring multiple styles of original music from local and international musicians and songwriters www.myspace.com/thebleedinghorsesessions
* Every Sunday "The Latin Beat" will take place in the Odeon in Harcourt Street from 20:00-02:00. A band will play from 21:00-22:30, a Latin Beat Club, Brazilian DJs and Salsa Classes will be additional features. Admission is free. www.odeon.ie/
* The Burning Effigies are playing afrobeat, jazz, funk and soul every Sunday from 23:00 in Turk's Head in Parliament Street. www.turkshead.ie
* The Gardiner Street Gospel Mass is on a summer break until 11 September and will be back from that date in St. Francis Xavier Church at the top of Gardiner Street near the junction with Dorset Street every Sunday at 19:30. Everybody is welcome independent from your level of religiousness. www.gardinerstreetgospelchoir.com
WEEKEND EVENTS
If you are just looking for Sunday events, please check the event list for Saturday as well. A good few events are taking place on Saturday AND Sunday, but it wouldn't make sense to list them twice.
______________________________
______Next Week_______________
———Monday————————–
ARCHIVE AT LUNCHTIME – FILM SCREENING – IFI
Mon 27 June: 13:10: Irish Film Institute, 6 Eustace Street, Temple Bar, Dublin 2
The IFI invites to free screenings of films from the IFI Irish Film Archive. Simply collect your free tickets at the IFI Box Office when you get there. (You might have to pay a 1 Euro membership for the day.) The film on Monday is "See You At The Pillar" (1968, 18 min). An entertaining British-produced tourist film which uses quotations from Dublin's literary notables (Joyce, O'Casey and Wilde among them) to illuminate the character of the city. The film features a dialogue between an English visitor and a native Dubliner while old rebel songs giving the film a humorous punchy tone. www.ifi.ie/cinema/dispfilm_07.asp?filmID=7374&Date=27/06/2011&PageID=15
THE CRITICAL TAKE – IFI FILM CLUB
Mon 27 June: 19:10 – Irish Film Institute, 6 Eustace Street, Temple Bar , Dublin 2
A free monthly film club is taking place at the IFI and the next event will be on Monday. Each month the IFI pre-selects three films, ranging from new releases to old classics, and then gathers for a discussion at the end of the month. In addition to this, three industry experts are on hand at each meeting to give their opinions on each of the films, before opening it out to the floor for a wider discussion.
Up for discussion in June will be new releases Senna and Potiche, and Ivan Passer's 1981 film Cutter's Way. The panellists will be Access Cinema's Manager David O'Mahony, IFI Cinemas Manager Peter Walsh and Chief Executive of Theatre Forum, Tania Banotti. Admission is free, but you need to book a seat. Contact the IFI Box Office on 01 679 3477 to book your seat and come along to join in the debate.
www.ifi.ie
WHAT THE FOLK? – WORKMAN'S CLUB
Mon 27 June: 20:00 – The Workmansclub, 10 Wellington Quay, Dublin 2
From June-September 2011, "What the folk?" will showcase some of the country's finest acts. "This artist showcase is calling for the country's finest musicians to rock their folking socks off and in a bid to win a prized slot in the esteemed Spirit of Folk festival in September 2011."
Every Monday night three acts will battle it out to win the public vote and get through to the final heat at the end of each month. The final will take place in early September in front of a live panel of guest judges. Folk acts of all shapes, sizes and sounds are invited to enter and try for their chance to feature in one of the country's most unique and valued folk festival "Spirit of Folk" (www.spiritoffolk.com)
The line up on 27 June is Lou McMahon, Water Woods & Mountain, Catherine Cunningham, Carlo Magliocco.
www.theworkmansclub.com/2011/06/14/what-the-folk-270611/
SONG CYCLE – WHELAN'S
Mondays: 20:00 – Whelan's, Wexford Street, Dublin 2
Song Cycle is a new weekly singer songwriter showcase every Monday, upstairs in Whelan's. This week's line up is Scott McWatt, Cal Folger Day, The Longtails. Admission is free. www.whelanslive.com/
SOLAR TRIO – GIG – ANSEO, CAMDEN ST
Mon: 21:00 – Anseo, Camden Street, Dublin 2
The first three Mondays of every month the Solar Trio with guests, host a free improvised music gig upstairs in Anseo on Camden st. Creating their own unique takes on old jazz standards along with totally improvised on the spot jams. Expect swing and hard, deep grooves meshed together with post progressive and contemporary meandering sections.
REGULAR MONDAY EVENTS
* Every Mon from 20:00-22:00 in Bewley's Cafe Theatre, 78 Grafton Street, the music collective the 'Lazy Band' is playing roots, trad and folk songs from Ireland, England, America. Admission is free. Laid-back atmosphere, unplugged and informal. www.facebook.com/pages/The-Lazy-Band/137845161717
* 'Hugh Cooney Don't Like Monday', a cabaret and live visual performance by Hugh Cooney, will take place every Monday night from 20:30 at The Pygmalion, South William Street, Dublin 2 (in Powerscourt Shopping Centre). Admission free. www.facebook.com/pygmaliondublin
* From 21:00 in the International Bar, 23 Wicklow Street: The Glór Sessions feature acoustic singer-songwriters, comedy, spoken word and poetry hosted by Stephen James Smith. Entry is free. www.stephenjamessmith.com/Glor.html www.facebook.com/TheGlorSessions
* In O'Byrne's Beverage House at 199 King St North (Corner of Capel Street and Bolton Street) a live music session "Jam with Karmann Reeves" will take place. Musicians are welcome to participate. www.facebook.com/profile.php?id=100001158421465
+ Comedy Night in Panti Bar. A new free Comedy Night with comedy improv, stand up and sketch every Monday night in Panti Bar on Capel St from 21:00. entertainment.ie/event/Comedy/Pantibar/A-Bear-A-Bull-And-A-Chicken-Walk-Into-A-Bar/2563419.htm
* From 21:30 a traditional Irish music session is taking place in Kennedy's Pub in Drumcondra. Admission is free.
* From 22:00, the front bar of Whelan's is the venue for the Open Mic event "Acoustic Nightmares Night", organised by the band The Mighty Stef and some members from The Last Tycoons. This is a free event. www.facebook.com/pages/THE-MIGHTY-STEF/17575454643
* Upbeat Generation is playing Soul/Funk/Rock Covers in The Mezz, 24/25 Eustace Street, Temple Bar, D2 from 22:00. Later: DJ Rasheed. Admission is free.
———Tuesday————————
NATIONAL GALLERY LECTURE
Tues 28 June: 10:30-11:15 – National Gallery, Merrion Square, Dublin 2
The free public lecture is entitled "The Design, Creation and Conservation of Modern Furniture" with Simon O'Driscoll, O'Driscoll Furniture. Admission is free. www.nationalgallery.ie/whatson
START A CRAFT, DESIGN, FASHION BUSINESS – TALK – CABRA LIBRARY
Tues 28 June: 14:30-16:00 – Cabra Library,Navan Road, Dublin 7
Suzanne May, a mentor and Project Manager on several craft initiatives, who ran a successful pottery business for many years, will talk about how to Start Your Own Craft, Design or Fashion Business. "We discuss market research, finance and sales. There will also be information on the supports available to small businesses from Dublin City Enterprise Board. Admission is free and to book your place go to
designerdublin.ie/events/starting-your-own-craft-business/
THE OPEN GATE – GATE THEATRE
Tues 28 June: 18:30 – The Gate Theatre, Cavendish Row, Parnell Square, Dublin 1.
The Gate Theatre is inviting to 'The Open Gate', a series of free pre-show talks and events in the Gate Lab.From 15 June-20 July a number of events will take place. The next event is a talk with Fintan O'Toole on "Molly Sweeney" on the opening night of the play. A further talk with Fintan O'Toole on "Molly Sweeney" will follow on Thurs 30 June. www.gate-theatre.ie/section/ScheduleofEvents
CELEBRATING JAMES LIDDY – IRISH WRITERS' CENTRE
Tues 28 June: 19:00 – Irish Writers' Centre, Parnell Square North, Dublin 1
In collaboration with Arlen House, who are publishing the selected poems of the late James Liddy, the Irish Writers' Centre is reflecting on the work of this very influential poet. www.writerscentre.ie/html/events/atthecentre.html
REGULAR TUESDAY EVENTS
* Open Mic Night with The Last Tycoons in O'Donoghue's on Suffolk Street every Tues from 20:00. It's free and anyone can get up, sing a song or do whatever they like. www.facebook.com/pages/ODonoghues-Open-Mic/71834618844
* O'Byrne's Beverage House at 199 King St North (Corner of Capel Street and Bolton Street) has a live music session with Sean Og McKenna and Friends every Tue at 21:00. Musicians welcome to participate. www.facebook.com/profile.php?id=100001158421465
* Live Jazz and Blues from 21:00 every Tuesday in the International Bar on 23 Wicklow Street, Dublin 2.
* In the Bankers Inn on Trinity Street (off Dame Street) at 21:30: An acoustic singer-songwriter session hosted by Dave Murphy. A contribution is requested but not required. This is a listening club so is very quiet and features a lot of experienced songwriters trying out new material. www.myspace.com/davemurphyandfriends
* From 21:30, O'Briens on Dame Street (next to the Mercantile Pub) is the venue for a further Open Mic event of acoustic rock'n'roll organised by the band The Mighty Stef. Admission is free. www.facebook.com/pages/THE-MIGHTY-STEF/17575454643
* White Chocolate is playing Rock Covers from 22:00 in The Mezz, 24/25 Eustace Street, Temple Bar, D2
———Wednesday———————-
OUR ENVIRONMENTAL NEEDS – TALK – UCD
Wed 29 June: 12:30 – Urban Institute Ireland, UCD, Richview, Clonskeagh, Dublin 14. Professor Katherine Richardson of the University of Copenhagen will present a talk entitled "Meeting the resource and environmental needs of 9 billion people". Professor Richardson chaired the Danish Climate Commission which was the basis for the Danish government's decision to become independent of fossil fuels. She is the lead-author of Climate Change; Global Risks, Challenges, and Decisions, Cambridge University Press and co-author of papers on the topic of her talk. The session will be chaired by Professor Chris Bean, and responded to by Dr Fiona Doohan and Professor Frank Convery. There will be time for interaction and discussion, and a light lunch will be provided. Space is limited. You must book your place by email to: maire.brophy@ucd.ie www.ucd.ie/earth/newsevents/events/esilunchtimeseminar/
ARCHIVE AT LUNCHTIME – FILM SCREENING – IFI
Wed 29 June: 13:10: Irish Film Institute, 6 Eustace Street, Temple Bar, Dublin 2
The IFI invites to free screenings of films from the IFI Irish Film Archive. Simply collect your free tickets at the IFI Box Office when you get there. (You might have to pay a 1 Euro membership for the day.) The film on Wed is "A Sense of Poetry: The Poem As Irony" (1975, 12min) This unusual short film, part of a Canadian educational series, is a visual illustration of the poem, The Beggars of Dublin, by renowned Canadian poet Alden Nowlan. It follows a visitor to Dublin as he disembarks from a plane and wanders the streets of Dublin encountering beggars and homeless people along the way. www.ifi.ie/cinema/dispfilm_07.asp?filmID=7373&Date=29/06/2011&PageID=15
INNOVATION UNPLUGGED – NATIONAL COLLEGE OR IRELAND
Wed 29 June: 14:00-16:30 – National College of Ireland, IFSC, Dublin 1
As part of the Innovation Unplugged series, NCI Business Incubation Centre is running a Masterclass on 29 June called "Open Innovation – Head in the cloud". Through Open Innovation learn how to use Cloud Computing for your company with practical advice on the benefits of using the cloud for your business. Ian Lucey from Lucey technologies will deliver a practical session on how Lucey technology have grown their business using cloud computing, Microsoft will cover Cloud computing and its benefits from a global perspective. IBM will host a mastermind session on cloud computing and Mason Hayes and Curran will be running a session covering off the legal aspects. You will have to register here to secure your place
www.ncirl.ie/site/event_form.asp?id=256 www.ncirl.ie/Events/Innovation_Unplugged_-_Head_in_the_Cloud
CLOUD COMPUTING JOBS – JOB SEEKER EVENT – NCI
Wed 29 June: 17:00-19:00 – National College of Ireland, IFSC, Dublin 1
NCI is hosting a free seminar where job seekers can find out how they can access jobs in cloud computing and find out about free places available on cloud computing courses. The event is called "Find your silver lining" and will cover the questions What is cloud computing? What is the scale of the opportunity and what does it mean for my career and job search? What are the job opportunities? Who is hiring and what are they looking for? How to transfer your skills and Package yourself for the cloud. If you are coming from a different occupation how do you transfer your skills to position yourself to get a job in the cloud? If you are an engineer, business graduate or architect what should you do to avail of these new opportunities? How do you position yourself in the new employment cloudscape?
The seminar is free and no prior registration is required.
The National College of Ireland is offering free places on certain part-time courses for the unemployed under the Springboard initiative. Advisors will be on hand to discuss which course is right for you and how you can avail of one of the limited places.
www.ncirl.ie/Events/Find_Your_Silver_Lining
FILM SCREENING – INSTITUTO CERVANTES
Wed 29 June: 18:00 – Instituto Cervantes, Lincoln Place, Dublin 2, quite near the National Gallery. – The Spanish Cultural Institute, Instituto Cervantes, is inviting to the film screening of "Cosas que dejé en la Habana" (1997) by Manuel Guriérrez Aragón (in Spanish with English subtitles). dublin.cervantes.es/FichasCultura/Ficha72945_16_2.htm
CELIA DE FREINE – BOOK LAUNCH – IRISH WRITERS' CENTRE
Wed 29 June: 19:00 – Irish Writers' Centre, Parnell Square North, Dublin 1
Arlen House presents the launch of "Aibítir Aoise: Alphabet of an Age" by Celia de Fréine. The Alphabet Book is a Polish genre that invites the author to discuss what he/she has observed during his/her life. Usually written in prose, it has here been adapted to poetic form. www.writerscentre.ie/html/events/atthecentre.html
BROWNBREAD MIXTAPE – STAG'S HEAD
Wed 29 June: 20:30 – Stag's Head, Dame Lane, Dublin 2
The next Brownbread Mixtape event is taking place on Wednesday. It is the last one before August and it is the 2nd birthday of Brownbread Mixtape, a hugely successful and popular event, run by the two hosts Kalle Ryan and Enda Roche. This month's theme is "Drinking" and apart from resident MC Kalle Ryan, you will enjoy the lineup of: Music: Marc O'Reilly, The Guilty Folk – Spoken Word: Abby Oliveira, Brian Conaghan – Sketch Comedy: The Brownbread Players
www.facebook.com/event.php?eid=231536326856840
brownbreadmixtape.wordpress.com/
JAZZ – O'REILLY'S PUB – SANDYMOUNT
Every Wed from 21:00-23:00, The Swing Factory (Paul Sweeney – trumpet, Neil McMahon sax, Bob Whelan vocals/keys Dave Fleming bass, Ian Hyland – drums) will be playing Jazz in O'Reilly's Pub in Sandymount, D4. Admission is free.
REGULAR WEDNESDAY EVENTS
* The "Havana International Language Exchange" is taking place every Wed from 16:30-19:30 in Havana Tapas Bar in George's Street. There are many Spanish speakers and English-speakers are explicitly invited, but everyone else is certainly very welcome too, to meet for a chat to improve your Spanish or English. www.facebook.com/pages/Havana-Tapas-Bar/10503361821
* "The Zodiac Sessions" is a regular open mic event from 20:30 in Bruxelles (between Grafton Street and Westbury Hotel) for unsigned musicians. Admission is free and there is a different line-up every week. www.thezodiacsessions.com/
* "The Song Room" is another open mic event. It takes place in The Globe in George's Street at 20:30 every Wednesday. www.hamletsweeney.com/events/
* The Alex Mathias Jazz Quartet will perform every Thursday from 21:00 in the International Bar on 23 Wicklow Street. www.alexmathias.com/
* Traditional Irish Music Session in Hedigan's (The Brian Boru) in Phibsborough from 21:30 every Wednesday. If you play an instrument you are especially welcome (all levels are welcome).
* Seven Deadly Skins are playing Reggae/Ska Covers from 22:00 with DJ Dotsie later. The Mezz, 24/25 Eustace Street, Temple Bar, D2. Admission is free.
———Thursday————————
TEMPLE BAR TALKS – EUROPEAN UNION HOUSE
Thurs 30 June: 09:15-14:00 – European Public Space, European Union House, Dawson Street, Dublin 2. On Thurs 30 June, Temple Bar Cultural Trust will host the first of a number of Temple Bar Talks. The title is "Enhancing Ireland's role in European cultural and creative industries" and the event will take place in the European Union House. Detailed information is available on www.templebar.ie/Event/Temple_Bar_Talks and for bookings contact Temple Bar Cultural Trust on 01 677 2255 or email Cicilia Lundberg at clundberg@templebar.ie.
WORDPRESS MEETUP
Thurs 30 June: 18:30 – You have to signup to find out the location.
Wil Brown contacted me and told me that he is holding the first Dublin WordPress Meet-up event on Thursday. It is an introduction and chat about how a regular event could be beneficial. All details are at www.meetup.com/Dublin-WordPress/
GROW YOUR OWN VEGETABLE – CABRA LIBRARY
Thurs 30 June: 18:30 – Cabra Library, Navan Road, Dublin 7
Dublin City Libraries and Grow-it-Yourself, present the talk "Chive Talkin: Growing Your Own Veg" by Jamie McNamara (GIY Rathgar Branch) on 30 June. Admission is free, bui tbooking is recommended (Cabra Library 01-8691414 or cabralibrary@dublincity.ie)
GIY groups are local food growers networks that recreate the camaraderie of allotment growing for back-garden vegetable growers by getting them together on a regular basis to learn from each other and exchange tips, war-stories and produce.
GIY membership is free and open to people interested in food growing at all levels, i.e. from growing a few herbs on the balcony to complete self-sufficiency, from beginners to old hands. www.dublincity.ie/RecreationandCulture/libraries/Events/Pages/Grow_Own_VA.aspx
YELP PING PONG SOCIAL CLUB – TWISTED PEPPER
Thurs: 18:30-22:00 – Twisted Pepper, Basement, Abbey Street, Dublin 1
The Yelp Ping Pong Social Club is a free weekly event at the Twisted Pepper in Abbey Street. Each week on a Thursday from 18:30-22:00 you can come along to prove your ping pong potential and be crowned 'King Pong' or just sit back, watch balls fly. www.yelp.ie/events/dublin-yelp-ping-pong-social-club
EYP SUMMER GARDEN PARTY – D TWO
Thurs 30 June: 19:00 – D Two, Harcourt Street, Dublin 2
The EYP (European Young Professionals) Dublin Summer Garden Party will take place in D Two. Check www.facebook.com/event.php?eid=180807235310458 for details about the event and more information about EYP can be found here: www.eypglobal.org/Dublin. To book your place, send a mail to eyp.dublin.ireland@gmail.com or confirm your attendance on the Facebook Event Page.
THE ARK OF REALISM – TALK – CFCP
Thurs 30 June: 19:00 – Centre for Creative Practices, 15 Pembroke Street Lower, Dublin 2. From 01-17 July, the CFCP will host the exhibition "The Arc of Realism – Zofia Rydet". This year is the 100th birthday of the Polish photographer and artist Zofia Rydet. The exhibition is an attempt to interpret her enormous creative output. The exhibition opens on Fri 01 July. And on the evening before one of the curators, Karol Jozwiak, will talk about the "Descriptive role of the exhibition – Aspects and concepts of the exhibition of Zofia Rydet". How to describe concepts through an exhibition, how to narrate a story of creativity? What is the role of an exhibition, is it just a mere composition of works, or has it got more creative task? www.cfcp.ie/photography/index.html#talks The exhibition and the talk are part of the PhotoIreland Festival 2011. The PhotoIreland Festival this year shows a wide range of works by contemporary photographers and well-known classics in over 40 venues city wide. The festival website is 2011.photoireland.org
STUDENT READING NIGHT – IRISH WRITERS' CENTRE
Thurs 20 June: 19:00 – Irish Writers' Centre, Parnell Square North, Dublin 1
The "End of Term Party: Student Reading Night" is a yearly wine reception celebrating the end of term. The night will provide students with an opportunity to mingle, chat and read their own work to fellow students and friends. There will also be music on the night. If you wish to read on the night, contact info@writerscentre.ie
www.writerscentre.ie/html/events/atthecentre.html
DUBLIN EVENT GUIDE ON TV – CAPITAL D (RTE 1)
30 June: 19:00-19:30 – On your TV!
Capital D, an RTE 1 (TV) programme in which Anne Cassin reports about events in Dublin, will be aired tonight and – if all went according to plan – it will have a section about the Dublin Event Guide For Free Events in it!
I haven't seen the feature, so I am a little hesitant telling you about it before I was able to see if I made a fool of myself. ;-) But once it is aired, it is too late anyway. So let's hope for the best! :-) www.rte.ie/tv/programmes/capital_d.html
RAILWAY SESSIONS – OPEN MIC – O'REILLY'S ROCK BAR
Thurs: 20:30 – O'Reillys Rock Bar, underneath Tara Street DART Station, Dublin 2
If you are a Singer, Songwriter, play an Instrument or just want to jam then come to the Railway Sessions in O'Reilly's every Thurs at 20:00 and showcase maybe a new song or a cover. All performing musicians will receive a complimentary drink. The event starts at 20:30. To contact the organisers: info@dublinsocialtv.ie An Indie-Rock Club starts immediately afterwards at 23:00. Admission free.
entertainment.ie/event/gigs/O%27Reilly%27s-Rock-Bar/Railway-Sessions/2575255.htm
ODEON MOVIE CLUB
Every Thursday the Odeon Pub in Harcourt Street is running a Classic Movies Club from 20:00. No cover charge. The theme for June is "Sci-Fi Season" and the movies are 30 June: Metropolis. www.odeon.ie/gallery.html
REGULAR THURSDAY EVENTS
* Quiz Night in The Lotts Cafe Bar, 9 Lower Liffey St, Dublin 1. Every Thurs a quiz night with great prizes is taking place at 20:00/20:30 depending on football. Participation is free.
* Dimestore Recordings run a weekly event in Sweeney Mongrel's, Dame Street (formerly Le Cirk) with a variety of bands and performers. It starts at 20:00 and the line up is here: www.facebook.com/profile.php?id=100000163463304&sk=wall
* "Thirsty Thursday" Open Mic Night from 21:00 in the Bridge Inn in Chapelizod Village. www.facebook.com/pages/The-Bridge-Inn-Chapelizod/350005960758
* Open Music Night in Darky Kellys pub in Fishamble Street, Christ Church, Dublin 8 organised by the music duo R.E.D.. Would you like to perform or just listen? Names of contributors are taken from 21:30 and the gig starts at 22:00. www.facebook.com/pages/Open-Mic-Night-Dublin/121048244620948
www.myspace.com/redmusic11
* The Bionic Rats play live Reggae and Ska every Thursday in Turk's Head from 22:00. Admission is free. www.facebook.com/TURKSHEADDUBLIN
———Friday————————
JAMIE LAWSON – IN-STORE EVENT – HMV
Fri 01 Jul: 18:00 – HMV, Grafton Street, Dublin 2
Jamie Lawson will be playing acoustic and signing copies of his latest album 'Wasn't Expecting That'. hmv.com/hmvweb/navigate.do?pPageID=1080
———Pre-Announcements————————
This section contains events that will happen in the future. Some of them require free tickets and it is mentioned where this is the case. Put the events in your diary and for the ticketed events hurry to request your tickets:
ARDAL O'HANLON – OLYMPIA THEATRE
Fri 01 July: 18:15 – Olympia Theatre, Dame Street, Dublin 2
Ardal O'Hanlon, the well known Irish comedian who was Father Dougal in the famous TV sitcom "Father Ted", will be in the Olympia Theatre for "One Night Stand" on Friday 01 July with some very special guests. The show will be recorded and because of this, tickets are free! It already starts at 18:15 and often recorded shows run a good bit longer than a normal show, but where else will you get a brilliant comedian for free! You need to reserve tickets here www.applausestore.com/applausestore-book-show.php?id=815&bid=1
______________________________
______This is odd!!______________
Please note: This section contains observations taken from the world I live in that strike me as odd. I express my personal opinion and you might not share it. If you are easily offended by opinions that are not identical with your own, please don't read this section. ;-)
WANNA BECOME PRESIDENT OF IRELAND?
Are you tired of your job? Or have currently nothing to do? Just enter the competition for presidential nomination like everyone else! What is in it for you? A job for the next 7 years, a nice salary of around 250,000 per year, a good few cool trips around the world and your accommodation is sorted as well.
Tempting? Just throw your hat in the ring! Currently it seems that everybody who thinks that he/she is brilliant is doing that. By my count, 15 people have expressed their desire to become the next president.
Expressing your interest doesn't mean much yet. To get nominated you have to be a member of a party if you want to choose the simple route (you could even quickly join a party that you never had much of an interest in!), but every party will only select ONE candidate. Alternatively you can try it on your own. It's a little more work that way to get your name on the ballot paper, but 6 out of the 15 are choosing that way.
The President has no big political relevance in the Irish political system, but he/she is the representative of the country and therefore is the highest job in the country. At that position you would think that it should be an honour to be asked to be a candidate, i.e. deserving people should be nominated by others. But all 15 have chosen to declare their candidacy themselves. It seems that none of them was asked (Two were asked and declined!) and the question can be asked if any of the 15 is really qualified.
Interestingly the election has not even been called (formally announced) yet. We know that the current President (Mary McAleese) will leave in October and therefore an election is probably taking place in July, but formally the nomination process hasn't even started.
The oddest thing – for the highest job in the country – is in my opinion the process of self-nomination for the candidacy. It just doesn't feel right if ANYBODY can stand up and say I think I am brilliant and I will declare my candidacy because of that. Sure some of the candidates are odd candidates as well, but I will leave that part for another while. Most will never become an election candidate, so I won't even waste time discussing them yet. en.wikipedia.org/wiki/Irish_presidential_election,_2011
–Advertisement————————————
MySURVEY – Get rewarded for taking part in surveys. You can make your opinion count AND at the same time get vouchers as rewards or donate to a charity!
clk.tradedoubler.com/click?p=83237&a=1719778&g=17705998
——————————————————–
—————–
More cool events this coming weekend and I am sure you find something that suits and interests you. …and while I understand that we need rain, I still hope for good weather….again! :-)
Have a great weekend!
Take care,
–Joerg
dublineventguide@gmail.com
www.dublineventguide.com
www.facebook.com/DublinEventGuide
*********************************************
For donations please go to www.perfectresults.info/donation.htm
**********************************************
You are receiving this newsletter because you have subscribed to it!!
If you don't want to receive this mail anymore, just click on the link at the bottom of this mail. It would help me if you told me in an e-mail why you decided to unsubscribe, but that is not a "Must". If you only want to stop receiving the newsletter temporarily, you can – if you wish – discuss this with me by e-mail so that we find a solution that makes sense to you. If you unsubscribe using the link at the bottom of the mail and there is a chance that you – at some stage – want to re-subscribe, please make sure that you keep a mail with the "unsubscribe link" because I will not be able to add you anymore to the list once you have unsubscribed using this link. The only way you can re-subscribe is to follow that specific link and change the settings yourself.
This Event Guide (the "Dublin Event Guide (for Free Events)") is an Event Guide with a difference. It covers mostly free events based on the thinking that free events deserve additional support and that non-free events have the money to pay for advertisement. The Guide is a _guide_ and not just a listing and is therefore at times quite extensive. It is sent for free to anybody who is interested and if you want to be added to the mailing list or know somebody who would like to receive this guide, just send a mail to dublineventguide@gmail.com with the Subject "Subscribe".
If you have feedback – good or bad – PLEASE tell me via the same e-mail address.
BTW: I am not paid or otherwise rewarded for compiling and distributing this Event Guide it is purely a hobby so your donations are needed: www.perfectresults.info/donation.htm. Advertisement in or sponsorship of the Dublin Event Guide (for Free Events) is possible and very welcome, please contact me for more information.
Please note: The Dublin Event Guide (for Free Event) is not related or connected to the former fortnightly printed publication "the event guide" that you found until December 2008 in pubs and other venues.
Copyright 2011 by Joerg Steegmueller.
***********************************************
This entry (Permalink) was posted on Friday, June 24th, 2011 at 13:44 and is filed under General. You can follow any responses to this entry through the RSS 2.0

feed. Both comments and pings are currently closed.