March 20th, 2021
A big birthday is near!
Multicultural Dance Weekend, SEODA Irish Culture Festival. Dublin Learning City Festival
Hi all!
Last year around this time we were worried about toilet paper supplies, many of you were baking banana bread as if there was no tomorrow ?, we were queuing outside supermarkets and we washed our hands till got raw.
And nobody would have thought that a year on, we still would be affected by this virus in such a severe way. The toilet paper is back, the banana bread is gone (Thank goodness to both! ;-) ), the queuing outside supermarkets has also gone down a LOT and even the hand washing is less. And still we are still in the middle of this pandemic and we still have no events and can't go on holidays etc.
So what has actually changed if the virus is still there and in a way more rampant than before?
Well, the one thing that has changed over the last 12 months is our thinking, our mindset. Partially influenced by scientific findings, but largely through something that is called "normalisation", it is a process whereby we get used to things, no matter how weird, difficult, unusual or even threatening they are at first. Politicians and media still would love to keep us on the edge of our seats, but the majority of people came to a sort of acceptance of this new situation.
And oddly, combined with some precautions and the vaccinations, this will be the only way out of this pandemic. :-O
By the way, did you see the Edition number at the top? This is the Dublin Event Guide No. 699!! So next week we will celebrate the 700th week of Dublin Event Guides. :-O Things are very different there as well than they were a year ago. One example: The number of website visitors dropped by 70% from February 2020 to March 2020. All events are online, as we know and I fully get that there is a certain online fatigue. But there are also advantages of online events and for the future I predict a hybrid of  real life events with an online component. What has also changed is the engagement on Facebook (partially Facebook's fault), but if that doesn't change then the Dublin Event Guide will have such a low reach on Facebook that it will die on that platform. And the donations also dwindled dramatically.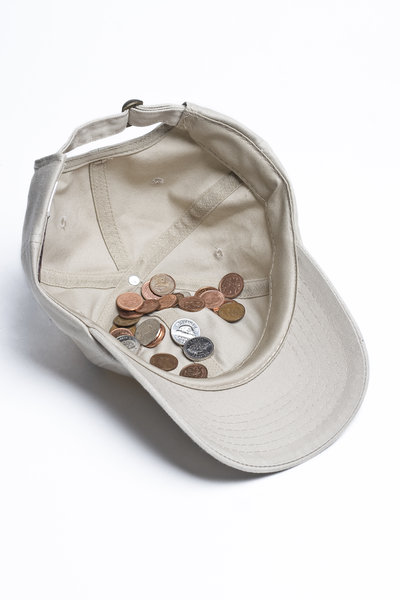 So the hat for your donations will stay have to stay out!
If you like free cultural events and enjoy the great content in the "Dublin Event Guide (for Free Events)", please help by donating a small amount. (The next big project is a very much needed update of the Dublin Event Guide website to be able to offer more services.) Any amount will help, but if you are looking for a recommendation, then I would suggest a donation of 12 Euro per year. That's just one Euro per month. Where else can you get so much value for so little money?
I have created a brand new Dublin Event Guide Donation Page here. It is really easy to use and uses Stripe's trustworthy payment processing. In case it doesn't work for you, the "old" links are still below for another little while. On this new page, you can also choose to sign up for a yearly subscription, yearly subscriptions will give some financial stability and reliability and would be great to have! (Look for the RED subscription buttons at the bottom.)
If the new page above doesn't work, just use these links and donate via www.paypal.me/DublinEventGuide
or for Revolut users among you just use @joergbrb (Revolut is moving away from phone numbers and to addresses like this one.)
If PayPal or Revolut don't work for you, you can buy one or two or even three virtual coffees (or Hot Chocolates!) for the Dublin Event Guide and you can do that on the "Buy Me a Coffee" page here www.buymeacoffee.com/DublinEventG  .

And if you come to www.DublinEventGuide.com and check out some of the ads and click on the ones that you find interesting, that also helps with a few cent!
Thank you!!
"EPIC – The Irish Emigration Museum" (www.epicchq.com) are currently sponsoring the Dublin Event Guide and this section of the weekly newsletter will contain relevant information about events in general or about EPIC-related news and happenings.
++ St Patrick's Day History-at-Home Pack
Keep the little ones busy at home, with EPIC's latest History-at-Home Pack. Free to download, enjoy 13 pages of word searches, quizzes and trivia – and even have a go at making your own green slime! And even after St. Patrick's Day, this is still a great activity for your kids. (And slime is cool any day of the year! ;-) ) dublin.epicchq.com/st-patricks-day-history-at-home-pack
++ Easter around the world – Workshop
Fri 26 Mar – 10:30-11:30 – Online – Adm: EUR 25 for a class
How do the Irish celebrate Easter around the world? From water fights in Poland to the Easter Bilby in Australia, embark on an adventure this Easter with EPIC The Irish Emigration Museum in their interactive EPIC Explorers workshop. Designed for Primary School level students, offered at a reduced rate of EUR 25.00 euro per booking/class. It is suitable for both school and home school students. Special rates available for home school students, contact groups@epicchq.com for details.
epicchq.com/event/epic-explorers-easter-around-the-world-primary-education-groups-exclusive/
++ EPIC Explorers: Easter Imagination Camp
30 Mar-01 Apr / 06-08 Apr – 10:30-11:30 – Online – Adm: From EUR 9 Looking for Easter activities for the whole family at home? Travel around the world with EPIC's Imagination Camp! Suitable for children aged 6-12 years, the 3-day camp has sessions dedicated to Female, Space and Antarctic Explorers, along with lots fun activities to try out at home. epicchq.com/event/epic-explorers-easter-imagination-camp/
Free events in Dublin this weekend…
What's on and free next week….
Dublin Event Guide (for Free Events)
SLIGHTLY MORE BASIC DUBLIN EVENT GUIDE
This week the Dublin Event Guide is a little bit more basic than in other weeks. There are still lots of events above, but this section is a little slimmer. The reason is because I am on a three day seminar this weekend from 09:00-22:00 from Friday until Sunday, so something had to be shortened.
But don't worry, the events list did not suffer! ;-)
Next week all will be back to normal!
FACEBOOK IS STILL BROKEN :-(
Facebook is still not able to provide an events list that does not require you to specify the category of the events AND to use a search term. That means it is impossible to search for all cultural events in Dublin on a Saturday and a Sunday, for example. This has the effect that people can not search effectively for events and then event organisers will put up less event notices.
If anybody of the dear Dublin Event Guide readers has a TINY bit (or even more) of influence on Facebook people in charge, PLEASE get them to fix their search engine. And if you need more detail, I am more than happy to help!
LEARN A NEW SKILL WITH ONLINE COURSES – Special Offer
Is learning a new skill part of your plans for the new year? Maybe it is a language or an instrument or some technical skills? Or NLP or some Business related "soft skills"? Check out Udemy via the link below, they have thousands of courses and there is good chance that what you are looking for is available.
The lowest cost for courses this month will be around 12.99. Check out the website at shor.by/GqCk And if you buy through that link, you help the Dublin Event Guide! ;-)
READ MORE BOOKS WHILE IN LOCKDOWN
For physical books and e-books I recommend Book Depository because they are usually cheaper than others and they always include delivery for free and by using this link you help the Dublin Event Guide when you purchase a book and it doesn't cost you a cent: shor.by/BookDepository  .
And this is it for another week! Have a good weekend and new week.
Take care,
–Joerg (dublineventguide@gmail.com)

You are receiving this Dublin Event Guide e-mail because you have subscribed to it. It is a free service that informs you about free events in Dublin. If you don't want to know about all the great free events in Dublin anymore, you can unsubscribe via the link below. If you want to hear about free events more frequently, then go to www.facebook.com/DublinEventGuide where at least once weekly free event details will be posted.
Copyright 2021 by Joerg Steegmueller