February 29th, 2020
  29 February 2020 – No 645
National Library Open Day, Love D8 Community Fair, Constant Knitter Craft Market, South William Market

Hi all!
ANOTHER weekend with storm warnings! And the Corona virus is also coming closer and closer. :-O Luckily we are all pretty positive and optimistic people, right!? Otherwise you could get tempted to worry about the future. But I have it from a very reliable source: IT WILL GET BETTER! Guaranteed! :-) And in the meantime: Keep Calm and Enjoy the Free Events!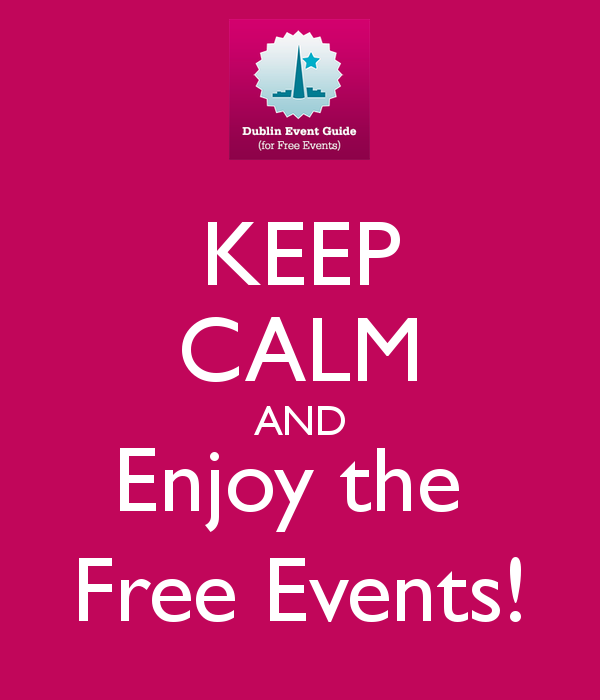 Our competitions from last week were super popular, but there are another few days to enter if you haven't done so yet:
You might remember that for the first competition you can get additional competition entries when you tell your friends and you all might remember from last week, that this event means a lot to me because I am deeply involved. If you can spread the word about our gig I would love that and if you would buy tickets and come to it, that would be even cooler. :-)
+ Gardiner Street Gospel Choir: 20th Anniversary Concert on 08 March in the Button Factory (19:30-22:00). You can buy tickets via this link gturl.eu/GospelConcert (EUR 20/15+fees).
The 35 people strong Gospel Choir plus 6 piece band will perform a great variety of Gospel songs and current songs with an inspirational and motivational message, and Ronan O Snodaigh from Kila will join the evening as a guest. It will be a great gig! ;-)
I have two pairs of tickets for a competition and to take part you just have to go to gturl.eu/GospelCompetition and all is explained there. Enter before midnight on 03 March.
The second competition is for an International Women's Day event:
+ "Powerdela – Here's to strong women" is an event with networking reception, finger food, music and inspiring speakers on Sun 08 March 15:00-21:00. It will take place in The Loft @ 4 Dame Lane, 4 Dame Lane, Dublin 2 and all details are here www.eventbrite.ie/e/92375793485 Tickets are EUR 20+fees. The great organisers from the Brazilian Professional Network Ireland have made 5 tickets available for Dublin Event Guide readers. To enter send an e-mail to dublineventguide@gmail.com with your name and phone number and with POWERDELA in the subject line of the mail. Your mail has to be with me by 03 March 19:00
And here is the weekly and very important reminder that the Dublin Event Guide needs your help week after week. And since you can help without having to pay a cent, I always hope that many of you are happy to support me.
And this is how easy it is:
Just go to www.DublinEventGuide.com and at the top you will find the sentence "Is this what you were looking for?". Right below that sentence you should find a rectangular ad. Please click on it!
The ad might change every time you open/refresh the page, so I can't tell you what it is promoting. If you don't see an ad there, please turn your Ad Blocker off and refresh the page and then do the clicking. ;-) Thanks, it REALLY helps!
If you click on the ad, I get between 5 and 20 cent. That is not much, but if enough people help, it will do the job to cover the cost to keep the Dublin Event Guide going.
And here are three other ways to help if they work better for you, they are not free, but help even more:
First: You can donate directly via www.paypal.me/DublinEventGuide (any amount is appreciated!!)
Second: You can "Buy Me a Coffee" here www.buymeacoffee.com/DublinEventG
Third: For the Revolut people among you it is super easy via 0872931571.
And here are the events: All events are sorted by start time, but watch out for the few events that have a "++" in front of them, the are particularly recommended. ;-) ALL events in this list are free, but some require booking! The market events that take place every week are only posted to people that have subscribed and on the website at www.dublineventguide.com

Saturday Events (29 February)
+ National Library Open Day Events 09:30-17:00 variety of free events in all libraries in Dublin. A few sample listings are here:
Dublin City – Central Library: www.facebook.com/events/634882620686373/ and www.dublincity.ie/main-menu-services-culture-and-amenities-dublin-city-public-libraries-and-archive-events/national
Dublin City – Pearse Street: www.facebook.com/events/515089952745602/
South Dublin – Lucan: www.facebook.com/LucanLibrary
Fingal – Blanchardstown: www.facebook.com/events/2811108005636441/
South Dublin – Ballyroan: www.facebook.com/events/2644921782292344/
Dun Laoghaire – LexIcon: www.facebook.com/events/204721514234115/
Dun Laoghaire – Stillorgan: www.facebook.com/events/2589463811302260/
+ Engineers Week 29 Feb-06 Mar – Last year there were 850 events all over Ireland. This year "Engineers Ireland" seemingly forgot put a link to the events calendar on their website. :-O Maybe it will get fixed. www.engineersweek.ie/
+ Reimagining the Decade: New Research Symposium 09:30-16:00 National Museum., Collins Barracks, Benburb Street, Dublin 7 www.eventbrite.ie/e/92931327101 (Booking required)
++ Love D8 Community Fair 11:00-16:00 St Catherine's Church, Thomas Street, Dublin 8 libertiesdublin.ie/2020/02/10/love-d8/ (Booking required)
++ PopUp Craft Market 11:00-17:00 The Constant Knitter, 88 Francis Street, Dublin 8 www.facebook.com/events/804699086697315/
++ Fairtrade Coffee and Cocoa Celebration Day – Talks, Workshops & Tastings 11:00-14:00 Rediscovery Centre, Boiler House, Ballymun Dublin 9 www.rediscoverycentre.ie/events/fairtrade-coffee-and-cocoa-celebration-day/ (Registration required)
+ Irish Global Solidarity in 100 Objects – Pop-up Exhibition 11:00-20:00 Former Greene's Bookshop, 16 Clare Street, Dublin 2 developmenteducation.ie/100objects/
++ South William Market – Fashion, Vintage & Crafts 12:00-17:00 Bloody Mary's, 7 South William Street, Dublin 2 www.facebook.com/events/535811893719147/
+ Qigong on the Roof Garden (or inside of the weather is bad) 12:00-13:00 Chester Beatty Library, Garden of Dublin Castle, Dame Street, Dublin 2 chesterbeatty.ie/whats-on/qigong-on-the-roof-garden/
+ Your Garden Ecology – Lecture 12:00-13:00 National Botanic Gardens, Botanic Avenue, Glasnevin, Dublin 9 botanicgardens.ie/event/lecture-your-garden-ecology/?instance_id=4727
+ National Gallery – Highlights Tour 12:30/14:30 National Gallery, Merrion Square, Dublin 2 www.nationalgallery.ie/whats-on

+ Goodbye DIT Kevin Street! – Event for former students and lecturers 13:00-16:00 TU Dublin, Kevin Street, Dublin 8  www.eventbrite.ie/e/89557700493
+ Quidditch Practice – Come and watch or take part 13:00-16:00 Fairview Park, Dublin 3 www.facebook.com/events/1702701353212103/
+ Hudson Taylor – Performance & Album Signing 13:00-14:00 Golden Discs, Dundrum Town Shopping Centre, Dundrum, Dublin 14 www.facebook.com/events/845322755907423/
+ Chester Beatty Saturday Tour 14:00-15:00 Chester Beatty Library, Garden of Dublin Castle, Dame Street, Dublin 2 chesterbeatty.ie/whats-on/plan-a-visit-tours/
+ Some Real Gems in the Chester Beatty – InFocus Tour 14:00-15:00 Chester Beatty Library, Garden of Dublin Castle, Dame Street, Dublin 2 chesterbeatty.ie/whats-on/some-real-gems-in-the-chester-beatty/
+ The Next 20 Yrs of New Music in Ireland: What Do We Need to Do? – Discussion 17:15-18:15 National Concert Hall, Earlsfort Terrace, Dublin 2 www.facebook.com/events/165630934742618/ (Journal of Music 20th Birthday event)
+ Mexico + Me – Photography Exhibition Opening 18:00-21:00 In-spire Galerie, 56 Lower Gardiner Street, Dublin 1 www.facebook.com/events/446826529536761/
+ Moon and Venus Watch 19:00-21:00 Astronomy Ireland, Unit B1, Centrepoint, Rosemount Business Park, Blanchardstown, Dublin 11 www.facebook.com/events/498400464149869/
+ Skakki Blues Live 20:00-22:00 Music Cafe, 1 Wellington Quay, Dublin 2 www.facebook.com/events/3239870916040351/
+ Metal 2 The Masses – Heat 5 – Gigs 21:00-00:00 Fibber Magees, 81 Parnell Street, Dublin 1 www.facebook.com/events/738611703306931/
+ The Dionnes Motown Band – Gig  21:00-23:30 Mint Bar, Westin Hotel, Westmoreland Street, Dublin 2 www.facebook.com/events/2254471771510771/
+ New Orleans Mardi Gras Party 22:00-02:30 O'Reilly's Bar, Tara Street, Dublin 2 www.facebook.com/events/122061045903177/
+ Johnny Cash Tribute "Walk the Line" 22:30-00:30 Trinity Bar, Trinity Sports & Social Club, Fr. Collins Park, The Hole in The Wall Road, Donaghmede, Dublin 13 www.facebook.com/events/2707174462710401/


in addition there are all the other free events at the
National Museum, National Gallery, National Print Museum, Hugh Lane Gallery, Science Gallery, Chester Beatty Library National Botanic Gardens and then there are all the weekly markets.


Sunday Events (01 March)

+ Engineers Week 29 Feb-06 Mar – Last year there were 850 events all over Ireland. This year "Engineers Ireland" seemingly forgot put a link to the events calendar on their website. :-O Maybe it will get fixed. And ticket distribution for the few free family events this weekend has closed already. www.engineersweek.ie/
++ PopUp Craft Market 11:00-17:00 The Constant Knitter, 88 Francis Street, Dublin 8 www.facebook.com/events/804699086697315/
+ Art Cart: Felt Making with Gabi 11:00-12:00 Phoenix Park Visitor Centre, Phoenix Park, Dublin 8 phoenixpark.ie/event/art-cart-felt-making-with-gabi/?instance_id=4157
+ Children Puppet Show: Le Grand Méchant Renard 11:00-12:00 Alliance Francaise, 1 Kildare Street, Dublin 2 www.facebook.com/events/2316240335309165/ (Booking required)
+ Irish Global Solidarity in 100 Objects – Pop-up Exhibition 11:00-20:00 Former Greene's Bookshop, 16 Clare Street, Dublin 2 developmenteducation.ie/100objects/
+ Drop-in family workshop 11:30-13:30 National Gallery, Merrion Square, Dublin 2 www.nationalgallery.ie/whats-on/drop-family-workshop-3
+ National Gallery – Highlights Tour 11:30/13:30 National Gallery, Merrion Square, Dublin 2 www.nationalgallery.ie/whats-on
+ Music Workshop with Sean Carpio for Teens 11:30-17:30 Temple Lane Studios, 2 Curved Street, Temple Bar, Dublin 2 www.facebook.com/events/225174775187635/ (Booking required)
++ The Globe Market 12:00-17:00 The Globe, 11 South Great Georges Street, Dublin 2 www.facebook.com/events/2682788258485681/
+ Dublin Song Series 2 – Sundays@Noon Concert 12:00-13:00 Hugh Lane Gallery, Parnell Square, Dublin 1 www.hughlane.ie/past-sunday-concerts/2798-sundaysnoondublin-songseries-2020-2
+ Bloody Mary's Record Mart 12:00-17:00 Bloody Mary's, 7 South William Street, Dublin 2 www.facebook.com/events/2608703339252820/
+ Family-friendly Gallery Tour 12:30-13:15 National Gallery, Merrion Square, Dublin 2 www.nationalgallery.ie/whats-on/family-friendly-tour-3

+ Guided Tour of Kilmacurragh 13:00-14:00 + 15:00-16:00 National Botanic Gardens, Kilmacurragh, Kilbride, Co. Wicklow botanicgardens.ie/event/guided-tour-of-kilmacurragh/?instance_id=4306
+ The Vikings in Ireland – Tour with Irish Sign Language Interpretation 13:00-14:00 National Museum, Kildare Street, Dublin 2 www.museum.ie/Visit-Us/Events?id=4334 (Booking required)
++ Paella Fiesta 14:00-22:00 D Two, 60 Harcourt Street, Dublin 2 www.eventbrite.com/e/96056771389 (Admission free if you register)
+ Frank Francone – Blues Guitar 14:30-17:00 Tram Cafe, Wolfetone Square, Jervis Street, Dublin 1 www.facebook.com/events/516662355930511/
+ Poetry & Novels at Sunday Sessions 15:00-16:30 Books Upstairs, 17 D'Olier Street, Dublin 2 www.facebook.com/events/2606957816070070/
+ Curators' Lecture on Murillo: The Prodigal Son Restored – Talk 15:00-15:50 National Gallery, Merrion Square, Dublin 2 www.nationalgallery.ie/whats-on/curators-lecture-murillo-prodigal-son-restored
+ Chester Beatty Sunday Tour 15:00-16:00 Chester Beatty Library, Garden of Dublin Castle, Dame Street, Dublin 2 chesterbeatty.ie/whats-on/plan-a-visit-tours/
+ Cuban Salsa Class – Dublin Salsa Academy 16:00-16:30 The Mezz, 23 Eustace Street, Temple Bar, Dublin 2 www.facebook.com/events/817166905403179
+ Organ Freeman – Live Jazz 18:00-20:00 The Big Romance, 98 Parnell Street, Dublin 1 www.facebook.com/events/241303893560698/
+ Gardiner Street Gospel Choir – Gospel Mass 19:30-20:30 St. Francis Xavier Church, Gardiner Street Upper, Dublin 1 www.gardinerstreetgospelchoir.com
+ The Night Before Larry Got Stretched – Traditional singing session with guest 20:30-23:30 The Cobblestone, 77 King Street North, Dublin 7 www.facebook.com/events/502619323981777/
+ The Comedy Crunch – Standup Comedy 21:00-23:00 Stags Head, 1 Dame Court, Dublin 2 www.facebook.com/events/201108271094400/